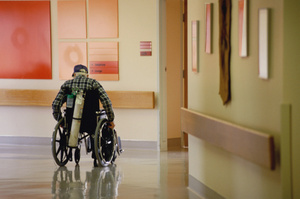 The Health and Disability Commissioner has criticised a Canterbury rest home and two of its nurses for the care provided to a 93-year-old man, who died from septic shock after being left filthy and unable to call for help.
The man, who is not named in Deputy Health and Disability Commissioner Tania Thomas's report, was transferred to Karadean Court Lifecare, which is owned by the Ultimate Care Group Ltd, in early 2009 after being assessed as requiring hospital-level care.
However, the rest home did not have a hospital-level care bed available and so the clinical services manager arranged for him to use a rest home room in the interim.
"(The nurse) said she was aware that the reserved studio unit was unsuitable because hospital-level care could not be supplied to it," the report said.
Rest home staff did not discuss this with the man's doctors.
On his fourth day in the facility, the man was visited by family members who raised concerns that his urine was dark.
The family said staff had confirmed the presence of blood in the urine, but then changed the bag used to an opaque bag.
On the fifth day the man's son complained about his father's standard of care.
"The dissatisfaction with [the man's] care included his family members finding him in soiled clothing, and his being unable to reach his call bell for assistance."
The report found the nurses showed poor judgement and lack of nursing skill, and also failed to adequately document the care the man required.
"I consider that [the Ultimate Care Group Ltd] did not did not provide sufficient support for staff or take sufficient steps to ensure that [the man] was provided with appropriate care."
The report recommended that the company, nurses and the rest home apologise to the man's family and that they make changes to ensure its standard of care was improved.
- APNZ