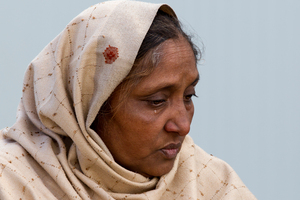 The mother of a slain security guard is too poor to return to New Zealand to see his accused murderer dealt with in court.
Charanpreet Singh Dhaliwal, 22, was killed at a West Auckland building site last November.
This week his mother, Karamjit Kaur, said she could not afford to be in New Zealand. "It's not possible," Kaur said through an interpreter.
Kaur, a widow, said she sold family land in North India to send her son to New Zealand to study.
She said her hometown in Sangrur, Punjab, was still upset at Dhaliwal's death. "They are all sad. He was well-liked by his friends."
Kaur was in New Zealand for about a month.
In July, the Sikh community helped Kaur send a letter to trade minister Tim Groser and immigration minister Nathan Guy, signed by 100 people.
The letter expressed Kaur's desire to stay in New Zealand and see justice served.
It also outlined why Dhaliwal was in New Zealand.
Kaur said the letters were never acknowledged.
Kaur told the Herald on Sunday her son placed his faith in God when he left India.
"He said 'I'm going to New Zealand. God will be with me'."
CNE Security was charged with failing to ensure the safety of an employee at work. The company has pleaded not guilty.
The Ministry of Justice said CNE Security would be back in court tomorrow after appearing on October 15. Company director Cherag "Chris" Elavia said he was unaware of the hearing.