Former Ireland and British Lions star Sir Anthony O'Reilly wrote a foreword for his friend Sir Wilson Whineray's biography in 2010. He has submitted it to the Herald before Sir Wilson's funeral today.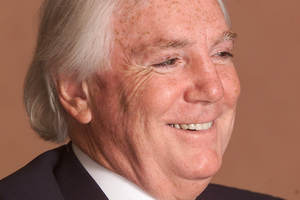 Whenever I think of Wilson Whineray, I think of Mt Rushmore, that monumental granite sculpture of four former Presidents of the United States - George Washington, Thomas Jefferson, Theodore Roosevelt, and Abraham Lincoln - carved out of the mountainside in South Dakota.
Wilson Whineray is the face of New Zealand - granitic in quality, unchanging over the years, a trifle amused, mildly sceptical, self reliant, not a loner but not necessarily a joiner.
He is what New Zealand is all about; he's what its people are all about; and it's what makes it such an enchanting place to visit, and if one is lucky, to tour as a rugby footballer.
I first went there in 1959. I knew little of New Zealand, other than the heroism of its men at Gallipoli and the incredible exploits of the Second Division of the New Zealand Army under Freyberg in World War II.
There is a story, which may be slightly apocryphal, of Von Arnim, the Germany Commander-in-Chief, advising Rommel about troop deployments in the desert in 1942.
He pointed to where various regiments were, and finally, he said, "And that's where the New Zealanders are," and Rommel's alleged reply was, "I think we'll give that place a miss."
There is a quotation from Alan Moorehead's book African Trilogy about this great division. Moorehead was a brilliant Australian writer and, like many of his fellow countrymen, he was not given to praising either the Poms or New Zealand. The passage is written after El Alamein and towards the end of the North African campaign in Tunisia.
"At last we cut through a field of cactus and beyond the main road north of Sousse. With the main road we saw the New Zealand Division coming head-on towards us in the way the enemy would have seen it coming. They rolled by with their tanks and their guns and their armoured cars. The finest troops of their kind in the world, the outflanking experts, the men who had fought the Germans in the desert for two years, the victims and the victors of a half-dozen pitched battles.
"They were too gaunt and lame to be handsome; too hard and sinewy to be graceful; too youthful and physical to be perfect, but if ever you wished to see the most resilient and practised fighter of all the Anglo-Saxon armies, this was he."
These were men like Wilson Whineray. He was in their tradition but in a less-martial atmosphere. I had also read A History of New Zealand, by Keith Sinclair, which depicted the brief, but eventful, history of New Zealand and its ceaseless quest for democracy and equality. In this, they have been hugely successful under all administrations. Again, when you seek a figure who symbolises those aspirations, you think of Wilson.
He has served with me on the boards of various companies, and I have had an opportunity to listen to the cadence of his voice; the measured, deliberate way he addresses a topic; the calm, conclusive way that he reaches his judgments; and the overall feeling is one of fairness and reasonableness.
That is what Wilson Whineray is all about, and that is what New Zealand is all about.
I joke with him about the'59 Lions and the fact that under the modern scoring system we would have split the series, 2-2, by winning that first test. We scored four fine tries against the mighty Don Clarke's six penalties. He always demurs.
The other memorable thing about Wilson is that he doesn't change, apart from suffering from the eternal front-row-forwards' affliction, which is back and hip problems.
Like all recollections of friends, one's thoughts focus on a single incident, and mine of Wilson will delight him in that for all his sterling play in a fine New Zealand pack in the'59 series and again in Great Britain and Ireland in'63, I recall his spectacular and indeed impertinent dummy to score under the post at Cardiff Arms Park in the final match of the tour against the Barbarians.
To this day, he still secretly believes that he was a fleeting, elusive center three-quarter who just happened to end up in the pack.
New Zealand and world rugby are lucky to have him as a symbol of all that is good and upright in the land of the long, white cloud.
Sir Anthony O'Reilly
Sir Anthony played 29 tests for Ireland and 10 tests for the British Lions. He led Independent News & Media Group from 1973 to 2009 and is a former CEO and chairman of the HJ Heinz Company.
Farewell
Sir Wilson Whineray will be farewelled at the Cathedral of the Holy Trinity in Parnell at midday today.