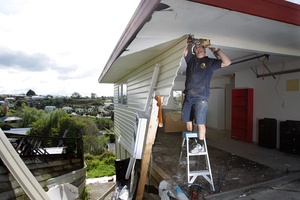 A Tauranga nurse was woken by the loud smashing of a car crashing into her home.
The accident happened late on Sunday night. An 18-year-old has appeared in court charged with excess breath alcohol, reckless driving and failing to stop.
The drama started when police tried to pull over a car seen being driven without headlights on.
Senior Sergeant Ian Campion said the driver failed to stop and police began a pursuit but soon called it off.
A short while later, the car allegedly careered down a driveway and crashed into the side of a Gate Pa house where a woman and her two children lived.
"The vehicle narrowly missed a bedroom where the children were sleeping,'' Mr Campion said.
The woman who rented the property, and who spoke on condition she was not identified, told the Bay of Plenty Times she was woken by the sound of the car crashing through the garage, which is attached to the house.
"There was a big boom and then the power went off.''
The woman instantly realised a car had crashed into her house but her first thoughts were for her children.
"One of them had just left the garage not long before. She had just gone in there to put some rubbish in there and was just walking down the hall when it happened.
"It could have been fatal for my daughter. I was worried about where she was.''
Once she had made sure her children were unhurt, she opened the front door to survey the damage.
"There were two drunk girls and the police were there. They were already on the scene when we opened the front door.''
However the 18-year-old driver was gone.
"He left the girls and scarpered. He was a real hero. He didn't even check to see if they were okay.''
The force of the crash blew out the outside wall of the garage, took out one of the structural supports, ripped out the power cables and caused wall fractures throughout the house.
Without power, and with a lot of work needed to fix the house, the woman and her children had been forced to move in with friends until they could find another house to rent.
"It's just been a nightmare,'' she said.
Landlord Gordon Brown said he was "more than pissed off about it. It's not an accident, it's wilful damage.''
While the house was insured, he said he would lose three or four months of rent while the house was fixed.
The 18-year-old man has been remanded on bail.
He is due to reappear in court on November 2.
For more articles from this region, go to Bay of Plenty Times