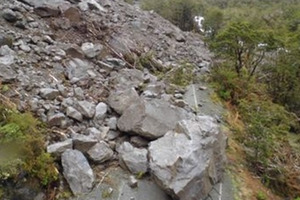 The man who died while clearing a slip near Monkey Creek on the Milford Road yesterday afternoon has been named as Graham Robert Brown, 67, of Dunedin.
The man sustained a "very serious head injury" following an incident with a compressed air hose, Southern ambulance spokeswoman Alena Lynch said.
He was treated at the scene by St John paramedics who had flown to his aid in a rescue helicopter from Te Anau, she said.
Despite the best efforts of all those on site, he was unable to be revived, Te Anau Police Sergeant Tod Hollebon said.
The accident is understood to have involved equipment being used on site at the time, however the details of the incident have not yet been established, Mr Hollebon said.
- nzherald.co.nz