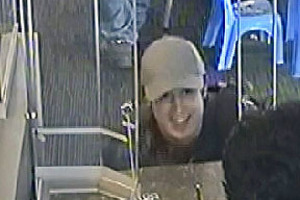 A smiling bank robber has admitted using a fake bomb to hold up a Christchurch ANZ.
Tim Whelan, 22, concocted the simple bank heist plan desperate for cash to pay off a debt.
After scoping out the Woolston branch of ANZ, he spent a week carefully planning the armed raid.
Wearing a cap, and a genial demeanour, he strolled into the branch on September 24, holding a box, with a makeshift `detonator' in his pocket.
He demanded cash from a female teller, telling her the cardboard box contained "high explosives''.
She said she didn't believe him, prompting him to produce from his pocket the detonator, which consisted of batteries taped to a plastic container, with a switch and wires.
"Believing that the defendant had a bomb and fearing for her safety the teller handed over a sum of money,'' Christchurch District Court was told today, after Whelan admitted his failed bank job.
Police released security footage of the hold-up days afterwards.
It showed Whelan smiling at the teller, making no effort to conceal his face.
When police caught up with him shortly afterwards, he told them he needed money to repay a debt.
Now, the unemployed Parklands man facing a stint behind bars.
His lawyer today told the court there were possible mental health issues behind the offending, and could mean he was a candidate for home detention.
Defence counsel Michael Starling said Whelan's parents were aware of the seriousness of their son's actions, but were supporting him and monitoring him closely.
He said it was "lucky'' for Whelan that the teller had been through a hold-up before, and had not been "unduly affected'' by it.
"It probably says more about her constitution than Mr Whelan's,'' he said.
No one was injured during the robbery.
Police prosecutor Bronwen Skea said Whelan was stressed because he was in debt.
"He had made a previous reconnaissance trip to find a suitable bank to rob a week earlier,'' she said.
The amount of cash he got away with has not been disclosed by the court, police, or the bank.
Police recovered some of the stolen cash, but are seeking reparation for the outstanding balance.
Judge Brian Callaghan read Whelan a three strikes warning and granted him bail, on strict conditions, given that it was his first offence, and the fact he has possible mental health issues.
He must stay at an Avonhead address under a night curfew and cannot enter ANZ or National banks before his sentencing on January 16.
The judge asked for a pre-sentence report to consider his suitability for home detention but added it did not mean he would avoid going to prison.
- APNZ