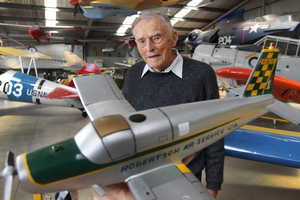 War hero and aerial top-dressing pioneer Guy Robertson is not letting his 96 years stop him from flying to Britain today to receive a top aviation award.
Not content to wait for the Guild of Aviation Pilots and Aviation Engineers to bestow the Jean Batten Memorial Trophy on him in New Zealand, Mr Robertson believes it right and proper to travel to London's ancient power-house of Guildhall to get the award at a banquet next week.
"I could have got it in Auckland, but I considered it a moral obligation to make the effort," he said at his home in Katikati during last-minute preparations for the long flight with his wife, Elaine.
"But we're going business class and a lot of the time you lie down, because I'll be 97 next birthday."
Mr Robertson, whose Hamilton-based firm Robertson Air Services blazed a super-phosphate trail over back-country farms throughout the Waikato and King Country from 1950, did not always fly in such comfort.
His career involved piloting Kittyhawk and Corsair fighter aircraft over the Pacific in World War II and helping to kick-start the top-dressing industry by flying Tiger Moth biplanes off makeshift strips perched over steep terrain.
The award honours his services to both military and agricultural aviation and is extra special to him as it is in the name of round-the-world solo Kiwi aviator Jean Batten, who made a big impression on him as a youth.
He learned to fly in the air force and became an instructor before three tours of duty flying fighter escorts for United States bombers over the Pacific.
He ultimately commanded 20 Squadron.
Although he remains modest about his part in the war effort, family friend Martin Gummer says he received two citations for meritorious service as an exceptional pilot.
He turned down a permanent air force job after the war but, as chief instructor with Waikato Aero Club, trained 100 more pilots before founding Robinson Air Services.
In 1953, Mr Robertson imported the first purpose-built Fletcher FU24 top-dressing aircraft from the US before building up a fleet of 16.
He later helped to establish Air Parts (NZ). This evolved into Pacific Aerospace, the country's largest contemporary plane-maker.