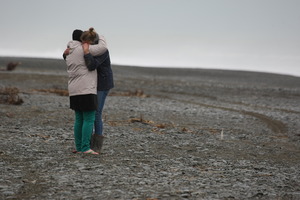 A whitebaiter who went missing after he was swept into the sea by a wave last weekend was remembered by the North Otago community this morning.
Hundreds of people gathered at Papakaio Community Centre to celebrate the life of Victor Boraman, 21, who went missing at the mouth of the Rakaia River in Canterbury on October 7.
Searchers have failed to find any trace of him.
Born Victor Sergeyevich Vasiliyev in Russia, he was adopted by Ted and Dixie Boraman and brought to New Zealand as a 6-year-old.
Those who gathered at the Community Centre today heard of Mr Boraman's love for life - he enjoyed nature, he loved the mountains and the sea.
He attended Papakaio School, Oamaru Intermediate School and Waitaki Boys' High School, but his family said he could not get out quick enough.
His first school report summed up his attitude to school and life: "Victor enjoys any activity outside the classroom".
Mr Boraman moved to Ashburton earlier this year to work on a dairy farm.
His sister Irina Boraman, who was brought to New Zealand from Russia with Victor, told the memorial service of the pair's journey to New Zealand together in 1997.
They came as a package, you could not have one without the other.
Fate would have it, that "two amazing people" - Mr and Mrs Boraman - would take the deal on this package and adopt the pair.
"Little did they know what they were getting themselves into," she said.
To his sister, Mr Boraman was "that annoying brother who everyone loved".
"Victor, you were my shield, you were my protector and, in a sense, you were my best friend," she said.
While his life was taken so young, she said he cherished every opportunity. Every day was an adventure.
"Physically Victor, you have left us, but you will always remain in our hearts and always be part of our lives," she said.
A tribute from Mr and Mrs Boraman was read at the memorial service, which was officiated by Ron Parker.
In his 15 years in New Zealand, he fitted in 30 years of experiences, they said.
A natural ability for fishing assisted in his development and hand-eye co-ordination which lead to his success in squash and tennis.
He had an "incredible eye" for hunting.
Although he was adopted, he was described as having his father's personality and love for the sea and his mother's heart of gold.
He treasured his friends - if you had a good listening ear, or shared the same interests, you had a friend for life in Mr Boraman.
Particular thanks were expressed to the Westpac Rescue Helicopter crew who "tried their very best" and came "so very close" to rescuing Mr Boraman.
The Boramans said they were grateful for the support of the Papakaio community.
It takes a village to raise a child and Papakaio was Mr Boraman's village.
"Thank you, Papakaio."