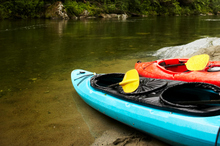 A missing kayaker's paddling companion abandoned her desperate attempts to reach him after she could no longer hear him screaming, an inquest has been told.
Cameron Millar, 19, disappeared after he was tipped from his kayak into Wellington Harbour on August 10 last year.
His backpack and kayak were recovered but his body was never found.
At an inquest in Wellington today, his paddling companion Stephanie Simon told of her desperate attempts to reach him.
Originally from Hamilton, Mr Millar had moved to Wellington last January to do a radio broadcasting course, where he struck up a friendship with Ms Simon.
The pair had graduated a month before they took Ms Simon's kayaks out for a picnic on Ward Island, 1.8km offshore from Eastbourne.
Neither were wearing life jackets when they set out in sunny, calm weather.
The seas had turned rougher by the time they started to head back to Eastbourne about 3pm.
The tragedy unfolded after Ms Simon was tipped from her kayak and called for Mr Millar to come back.
As he turned, his kayak was hit by a wave and he was tipped into the sea.
Mr Millar tried to pull his backpack off but became separated from his kayak, which drifted away quite quickly.
Ms Simon said he was "freaking out and panicking" as he struggled to get his hoodie off.
She got back into her kayak and, lying on her stomach, desperately paddled towards Mr Millar using her hands.
But after about 15 minutes of paddling, she could no longer see him waving his hands.
"I couldn't see him because of the waves in the way, but I could hear him ... all I heard was shouts and screams."
As time passed, Ms Simon said she could no longer hear anything.
She kept searching for Mr Millar but eventually had to make the decision to paddle back to shore, where an Eastbourne local called police about 6pm.
By then, more than two hours had passed since Mr Millar was tipped from the kayak.
Constable Anthony Harmer of the Wellington police search and rescue team said an extensive search was carried out over the following days.
The search involved a helicopter, five vessels, the police national dive squad, sonar-equipped Navy divers and shoreline search teams.
Mr Millar's backpack, kayak and paddle were found but his body was never recovered.
Mr Harmer said Mr Millar was a "well-liked young man" with many friends and a loving family.
Both police and family agreed his drowning was a "terrible tragedy" that may have been prevented by wearing life jackets.
Mr Millar's father Ross Millar, whose wife Joanna stood beside him in the witness box, said it was clear his son had drowned and "the sea had claimed his body".
"We have no reason to believe that Cameron is alive," he said.
The family held a memorial "circus" for Mr Millar at which he had stressed the importance of wearing a life jacket.
Coroner Ian Smith noted the kayaks looked "fairly cheap" and questioned whether they could tip over easily and would be difficult to get back in to.
He reiterated that wearing life jackets was "a must".
Coroner Smith found Mr Millar died after drowning at sea but reserved the rest of his findings.
- APNZ
By Matthew Backhouse @Mbackhouse

Email

Matthew