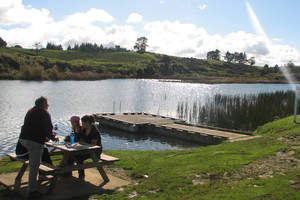 Parents and caregivers need to be vigilant in watching youngsters around water after a little boy wandered out of sight and drowned, a coroner says.
On Christmas Eve, 2009, four-year-old Laylyn Taurere was playing at the Lake Waro Scenic Reserve at Hikurangi, north of Whangarei, with his mother, siblings and cousins.
Laylyn's mother Sarah Prime was playing with some of the younger children, and could see her son standing in the lake up to his knees.
Some of the older children went to a skate park about 150 metres away and it was believed Laylyn had joined them, because he was not seen at the lake.
He was not discovered missing until 6.15pm when the family was packing up the picnic to go home.
About 15 minutes later, Laylyn was found underwater in the lake and CPR was carried out.
It was thought he might have been under the water for about half an hour before he was discovered, but Coroner Brandt Shortland said there was no evidence to substantiate that belief.
Laylyn died that evening at Whangarei Hospital.
Mr Brandt said it was an "unfortunate situation" for Laylyn's parents.
"This was simply a situation where Laylyn had quietly slipped out of view and had given his mother the impression he had left the foreshore of the lake to go to the skate park."
He ruled the little boy had died from drowning.
"Despite the best efforts of a parent to supervise children near water it is so easy for a small child to slip out of sight and out of attention of those who are watching. There must be a concerted vigilance in such a task."
- APNZ