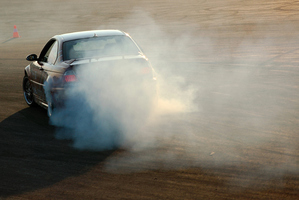 A boyracer caught after a 14-minute high-speed pursuit involving 10 police cars was unrepentant afterwards, telling officers: "Next time I'll smoke you."
Kevin McKinley, 18, was caught by police stealing petrol from a rural service station yesterday.
On his discharge from the police station, he hitch-hiked back to his "impounded" car and took off again.
He was stopped only as he entered Christchurch, doing 100km/h in 60km/h zones, with the deployment of road spikes.
Today the unemployed Nelson youngster appeared at Christchurch District Court where he pleaded guilty to five charges, including theft of petrol, driving while disqualified, and failing to stop.
He was denied bail and sent back to Nelson District Court where he will also be sentenced on other charges next month.
Police say McKinley and a 20-year old passenger, also from Nelson, drove off without paying for petrol at Culverden, in North Canterbury, and were pulled over at Weka Pass about 10am yesterday.
The disqualified driver's Toyota stationwagon was left at Weka Pass while he and his passenger were taken back to the Culverden police station, charged and released on bail.
Sergeant Rene Pabst, of Rangiora, said the pair then got a lift to their car before it could be impounded by police and drove on toward Christchurch.
A police patrol spotted the car at Waikuku and began a pursuit at speeds "well in excess of 100km/h".
Police patrols from North Canterbury and Christchurch joined the pursuit before the pair stopped ahead of road spikes in Guthries Rd, Belfast about 12.30pm.
McKinley was arrested and his passenger released without charge.
Judge Brooke Gibson was not impressed with the show of "youthful bravado", and despite him being aged under 20, remanded him in custody and shipped him back to Nelson, where he stays with his mother.
- APNZ