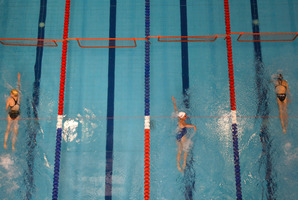 Mayor Len Brown's policy of extending free entry to children 16 and under at all Auckland Council's 24 swimming pools means Manukau adults lose their free swims and have to pay $3.10.
This was revealed yesterday to a council forum in draft operating guidelines for the kids-free policy from April next year.
In May, Mr Brown had to ditch unpopular plans to extend the former Manukau City Council's free swimming at five pools to those across the region. But he gained support for the 16 and unders.
Council officers reported on how the policy will be implemented to yesterday's Parks, Recreation and Heritage Forum, ahead of informing local boards.
Policy analyst Anita Coy-Macken said charges for adults 17 years and older would be based on existing charges, or the lowest equivalent charge in the council pool network where there was currently no charge, as in Manukau.
The lowest network charge for adults presently was Massey Park, Papakura, which charged $3.10 entry.
Adult charges at the region's pools range from $5 to $6 and $6.90.
Charges would still apply to all for entry to spas, saunas, hydra slides, diving boards, steam rooms and to use special play equipment.
Entry would be free for school groups to book space on school days between 9am and 3pm and for children's groups during standard hours.
Councillors were told the kids-free policy would not apply to Newmarket Pool, where the lessee sets fees and charges, or to facilities where the council is a partner but does not set the prices.
South Auckland councillor Alf Filipaina was concerned that an adult care giver for a disabled adult would have to pay. He was told it would be at a disability rate of less than $3.10.
An adult supervising a child would be classed as a spectator and pay the lowest network price, which might be $1.
Councillor Ann Hartley said it would be of concern if no concession was made for older people where pools did not currently offer a discount. It was stated that local boards were able to put in their own money to subsidise disabled or older people.
Officers said the council was trying to strike a deal with trusts in Mt Albert and Mt Eden to allow children 16 and under to swim free, but they would need compensation.
Auckland has 24 pools and three more are to be built in the next eight years - at Otahuhu, Albany and Ormiston.
Cost of dip
Auckland Council pool entry fees 2012
Stanmore Bay: Adult $5.70 & child $4.
North Shore Leisure: $6.50 and child $4.20.
West Wave (Henderson): $6.90 & child $4.60.
Manukau: All free (adults $3.10 from April 2013).
Papakura: Adult $3.10 & child (under 17) $1.10.