Army private was going to swap uniform for plumber's overalls.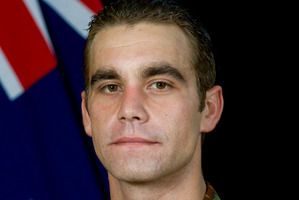 Private Michael Ross was weeks away from being discharged from the army when his rifle apparently knocked him unconscious as he fell from an inflatable boat.
Private Ross disappeared under the water and his body was found a week later.
The family of the soldier believe he was unable to inflate his lifejacket after falling into Lake Moawhango, near Waiouru, because he was unconscious after being hit by the butt of his gun in a freak accident.
Private Ross, 29, had handed in his notice to the military only weeks before he drowned in the lake during an army exercise on September 25.
His uncle, Jack Rogers, who trained Private Ross as a plumber, said his nephew planned to return to his Auckland home in November and return to work in the trade he loved.
"The military was really good for him in that it gave him some disciplines that he kind of needed in his life to keep him on track," Mr Rogers said.
"It had just given him some guidance and he thoroughly enjoyed that but his passion was always plumbing."
Private Ross was buried in the cemetery at St Stephen's Church, Pampuria, after a funeral at Te Paatu Marae in Northland on Monday.
In a eulogy at Private Ross' funeral, Major Brad Taylor told how the soldier was the military's "go-to guy" for plumbing problems.
Major Taylor said that Private Ross's decision to leave the army had been disappointing and the option of awarding him a commission had been discussed.
"You have truly been a great soldier and a friend to all. Once a soldier, always a soldier," he said.
Investigations by the military and the coroner will establish the cause of Private Ross' death.
Private Michael 'Rosco' Ross
* 29 years old.
* Born in Kaitaia, raised in Auckland.
* Studied at Auckland Grammar School.
* Planned to leave the army in November to return to being a plumber.
- additional reporting APN
- APNZ