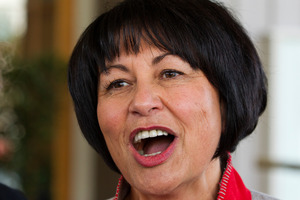 Education Minister Hekia Parata says she stands by her poorly received comment about teachers pronouncing Maori and Pasifika names incorrectly.
The comment at last week's Post Primary Teachers Association (PPTA) conference was met with groans from teachers, and was later described by PPTA president Robin Duff as a "low blow".
But there was a more welcoming response from a group of Pasifika teachers in management roles today.
Ms Parata told the Pacific Principals Association conference that putting learners at the centre was one of the keys to achieving educational success for Pasifika students.
"It was in this context that I was talking about establishing relational trust that starts with being able to pronounce our young people's names properly. That was the context - I don't resile from that."
The comment did not seem to raise any eyebrows among the mainly Pasifika audience at Wellington's QC Hotel.
Ms Parata was twice off-side with teachers last week, after she allegedly told a conference of first-time principals they were "unprofessional" for failing to read a document about national standards.
She later denied making the comment, saying it was "absolutely untrue".
Speaking to media after today's conference, Ms Parata said she thought she had been "pretty well received" at recent teachers' conferences.
"Everyone is passionate about education, everybody's got a view about education and so those are the sorts of things that we end up debating, and I'm relaxed about that."
Ms Parata told today's conference there was a need for more Pasifika teachers.
"I really want to see more Pasifika people choosing teaching as a profession, and then going on into professional leadership," she said.
Teachers offered suggestions on how to achieve that, including targeting Pasifika high school leavers who would make good teachers, and scholarships for Pasifika teachers already in the profession.
Ms Parata told media after the conference she was happy to work on those suggestions.
"I do want to work with the Pasifika community to see how we can get more Pasifika people into these opportunities."
Ms Parata said it was important that all Pasifika children were successful at all stages of the education system, so they would be able to enter the teaching profession.
It was also important to support those Pasifika teachers already in the profession.
"We need to be making sure that the small 2.2 per cent of Pasifika who are in the teaching profession get as much opportunity as possible to be considered for our aspiring principals' programme, for our first-time principals' programme."
Asked whether it should be mandatory for all teachers to have specific training on Pasifika children, Ms Parata said all teacher should be able to teach all children.
"But there's no way you can compel a particular style of teaching."
- APNZ