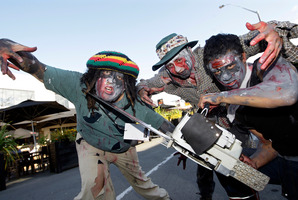 The third annual Rotorua Zombie Walk will take place later this month despite calls to cancel the event.
The Rotorua Zombie Walk, to be held on October 20, is a fundraising event and has been growing in popularity - but each year critics say it should be canned.
This year, the event is sponsored in part by Auckland Horror Theme Park Spookers and will be bigger than previous years.
Proceeds go to Rotorua's local Brain Injury organisation and event organiser Layla Robinson said she had again received anonymous calls from members of the public complaining about the event and calling for it to be cancelled.
"In our first year we suffered a lot of opposition to the association between the event, and the organisation I'd decided to donate the proceeds to. However, we went ahead and held a successful, family friendly event that raised thousands of dollars for people in need and we will do so again in 2012."
Ms Robinson said any "self-respecting zombie fan" knew that "zombies ate brains" and the tagline for this event was giving back to brains.
"How people can compare those with brain injury to imaginary reanimated corpses who eat human flesh is beyond me," Ms Robinson said.
"Luckily most of the people I've spoken to support this event, including my old school buddy Janine Bolton whose daughter Daryl-Ann sustained a brain injury at birth. Our supporters can rest assured, the show will go on."
Ms Robinson said she wanted to double the amount she has raised in previous years.
"I've set a goal of $4000 to be raised not only from the walk, but also from a Halloween Party I'm organising featuring New Zealand rock band Devilskin which will be held at The Shed on October 27."
Registration headquarters for the event is in the centre of the Lakefront Craft Market and market organiser Liz Davies said she was excited to host the zombie walk among her regular stall holders this year.
Registration for the Zombie Walk is open from 10am to 12pm on October 20 outside the Soundshell stage.
The walk will leave at 12.30pm and will be back at the the Lakefront by 2pm where participants will perform the Michael Jackson Thriller dance.
Registration is $5 per person and proceeds from the event will be donated to Brain Injury Rotorua.
The organisation uses the funds toward ongoing costs of education and support for survivors of brain injuries and their families.
For more information about the Zombie Walk visit www.zombiewalk.co.nz or the Facebook page www.facebook.com/RotoruaZombieWalk.
- RDP ln
For more articles from this region, go to Rotorua Daily Post