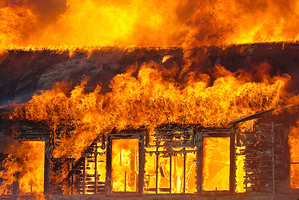 Photo / File
One person was treated for smoke inhalation after a large house fire in Ngaruawahia which sparked dozens of calls from both sides of Waikato River.
Firefighters were alerted to the blaze on Hakarimata Rd, on the western bank of the river, shortly before 3pm, Fire Service northern communications shift manager Jaron Phillips said.
"We got dozens of calls, so the fire was very visible from both sides of the river there. It could be seen from some distance away."
Mr Phillips said firefighters arrived to find the top floor of the two-storey house completely ablaze.
Eight fire crews tackled the blaze at its height.
"Water was a problem for firefighters, so three water tankers were brought in."
A member of the public who suffered smoke inhalation and an eye irritation was treated at the scene.
- APNZ