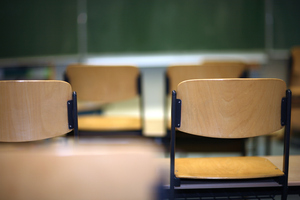 The Labour Party is ramping up its opposition to the Government's education plans by dedicating a new role to tackle closures and mergers of schools in Christchurch.
Labour leader David Shearer said the education portfolio had grown to a size well beyond one or two MPs and he had appointed Chris Hipkins as spokesman on education in Christchurch.
Education is now the top priority for the party with most of its resources dedicated to battling National's moves on education under Hekia Parata.
Mr Shearer said the appointment of Mr Hipkins to the role was not a reshuffle of Labour's front bench or a threat to education spokeswoman Nanaia Mahuta's role.
"We needed to provide a focal point around Christchurch, which is a breaking issue, and that's why we appointed Chris."
The timeframe the Ministry of Education will work to over closures and mergers has been slowed down after Labour put pressure on the Government. "It's not enough, but they've slowed things down compared to what they had been intending to do," said Mr Hipkins.
He agreed the education portfolio had swollen well beyond the capabilities of one or two people.
"There are so many issues in Christchurch - there's more than enough for several spokespeople to be working on.
"Everyone agrees there should be change, but the reality is people don't feel they are going to get a better system - the process the Government is rushing through smacks of predetermination," said Mr Hipkins.
The proposed changes to Christchurch schools were based on March roll projections but Mr Hipkins said July roll projection figures were more recent and accurate.
"March is a time where roll numbers are always the lowest, because the roll builds during the year, so they've basically taken the worst roll numbers they could use."
Education spokeswoman Nanaia Mahuta said she was still actively engaged in education issues.
She is due to give birth in December but will return to Parliament early next year.
Labour Party portfolios in education:
• Nanaia Mahuta - education
• Grant Robertson - tertiary education, skills and training
• Chris Hipkins - special education and education in Christchurch
• Sue Moroney - early childhood education
- APNZ