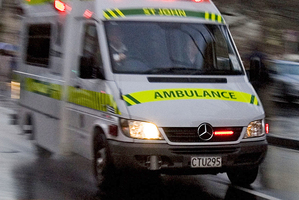 A cameraman had to be rescued from a 15 metre high viewing tower after collapsing while filming a Heartland rugby match in Levin yesterday.
An ambulance was called shortly after 3.15pm when the man - believed to be in his early 60s - apparently suffered a heart attack and collapsed while filming the Horowhenua-Kapiti -West Coast game.
St John paramedic and ambulance officers climbed to the viewing box where the man lay.
Levin volunteer fire fighter strapped the man into a rescue stretcher and lowered him to the ground. He was taken by ambulance to Palmerston North Hospital.
- Horowhenua Chronicle