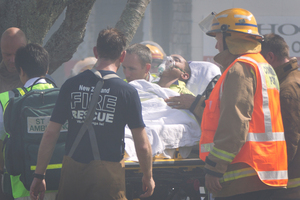 Two firefighters are being hailed as heroes after pulling a mate out of a burning Auckland building.
Jared Brown is in hospital after being overcome by smoke from the fire on Mt Eden Rd on Friday.
Fire Service acting area commander Steve Lakin said Brown was part of a team which entered the two-storey building, occupied by curtain makers Lahood, to fight the flames internally.
"The smoke was so thick that you couldn't see your hand in front of your face," he said.
As the air in their breathing apparatus began to run out the team retreated but Brown somehow became separated.
"As the crew came out and realised a firefighter was missing, we initiated emergency procedures immediately to search for the firefighter."
Brown had activated his distress signal unit which sounds a loud alert.
Lakin said two firefighters entered the burning building "like a train" and got the spluttering firefighter out within two minutes.
"It was a textbook rescue. I'd like to praise the two firefighters who went in to rescue Jared. They did really well."
Lakin said they would look at the cause and origin of the fire, the Fire Service response and Brown's injury, including whether his equipment was adequate.
Fire investigator Mike McEnaney said it appeared the blaze started near the centre of the building on the top floor. The storeroom or workroom was unoccupied and the fire was not being treated as suspicious, he said.
- APNZ