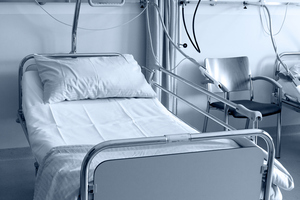 File photo / Thinkstock
A patient at a Wellington resthome with dementia and multiple sclerosis had a fractured shoulder and hip for more than two weeks before he was taken to hospital, where he died before he could undergo surgery.
Coroner Ian Smith has found Robert Wilson Jarvie, 86, died of complications from his injuries after he fell out of his bed at the resthome last April 11.
Mr Jarvie, who could no longer speak and was confined to bed in Cashmere Hospital for the last two years of his life, was attended to by a nurse after he fell out of bed.
The nurse was satisfied he had only minor injuries, including scratches to his skin and bruising, but later faxed Mr Jarvie's doctor at the request of his daughter.
Dr Alistair Young did not see Mr Jarvie until his next scheduled visit, on April 15, as was standard practice for non-urgent callouts.
He focused on an eye infection Mr Jarvie had, and the fall was not raised by the nurse.
In the coming days, nurses noticed Mr Jarvie was in pain when he was turned, but it was not until April 26 that a nurse suggested he had suffered a "possible dislocation".
He was rushed to Wellington Hospital the next day and died on April 28 before he could undergo surgery.
At the coroner's hearing, Mr Jarvie's daughter Janet Taylor raised concerns over how her father was able to fall from the bed.
She also questioned why the resthome did not contact Dr Young immediately, and why he was not told about the fall when he attended.
Coroner Smith noted the hearing concluded with an agreement that the resthome would meet the family and receive a copy of Wellington Hospital's protocols for falls.
Cashmere has subsequently acknowledged the need to ensure better communication with patients' families and to address lapses in documentation.
- APNZ