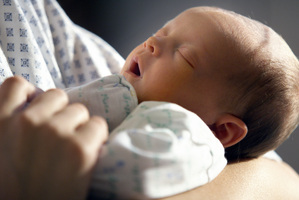 The death of a newborn baby and the severe illness of two others may have been caused by their mothers taking a common high-blood pressure drug, an article by two Auckland doctors indicates.
The women were taking ACE inhibitors, which are not supposed to be used during pregnancy because of the risk of harm to the fetus. But the pregnancies were all unexpected.
The 38-year-old mother of the baby who died was not diagnosed as pregnant until 17 weeks' gestation, paediatric registrar Dr Maneesh Deva and Starship children's hospital kidney specialist Dr Tonya Kara say in the New Zealand Medical Journal.
The baby needed resuscitation at birth, was found to have deformed kidneys and died after five days.
The second baby had heart and kidney problems, was treated in neonatal intensive care and was later reported to have "sound growth and developmental progress".
The third was admitted to neonatal intensive care for several days, began kidney dialysis at 8 months and had a kidney transplant at 22 months. He "has been making satisfactory progress" since then.
"ACE inhibitor exposure during pregnancy may result in potential renal, cardiac and limb complications for the developing fetus," Drs Deva and Kara say.
They say the counselling of potential mothers who are taking these drugs, such as cilazapril, is probably inadequate.
One of the women in their series, aged 18 when she gave birth to the boy who later had the transplant, had been taking an ACE inhibitor since childhood.
"It is not known whether her parents were counselled regarding pregnancy when this [medicine] was commenced, however she has no recollection of this being discussed with her directly or before transfer to adult services.
"... Pharmac reports well over a million ACE inhibitor prescriptions are filled per year with an unknown, but potentially large number, to women of child-bearing ages."
A survey by the authors found that of the 52 specialists who responded, 27 had experienced cases of antenatal exposure to the drugs. In 14 cases the "neonate was affected ... with three ... resulting in fetal/neonatal demise".
The authors said a "heightened awareness" about the risks of the drugs in pregnancy was needed among all practitioners involved in the use of ACE inhibitors.
Medsafe group manager Dr Stewart Jessamine said alternative blood-pressure medicines could be used safely in pregnancy.