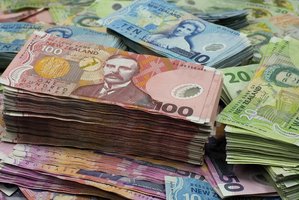 The director of an investment company who stole $4.7 million from investors - some of whom were family and friends - has admitted his guilt.
Evan Paul Cherry, the sole director of Albany-based Investment Solution Limited (ISL) stole investors' funds and made false statements in offer documents.
The 54-year-old, who lost name suppression earlier this year, appeared at the North Shore District Court today to plead guilty to four charges brought by the Serious Fraud Office (SFO).
Cherry, who brought a bag to court and hugged a supporter before entering the dock, was remanded in custody until December for sentencing.
SFO prosecutor Todd Simmonds laid charges that included some of the money being used for personal use and other amounts being paid to other investors.
Community Magistrate Diane Hale allowed Cherry to apply for Restorative Justice.
Cherry's lawyer Matt Dixon was asked to address the issue of reparations.
"It would be unhelpful to investors to let them think that there were any funds left because that is not the case."
The SFO says at least $4.7m of the $9m Cherry received from about 175 investors was not invested in accordance with instructions.
He pleaded to four charges including theft by a person in a special relationship, theft by misappropriating proceeds and making a false statement by a promoter.
Out-of-pocket investors were at court to watch the proceedings.
One investor, who gave his name as Leon, has told APNZ that he had invested $280,000 with Cherry. He managed to get just $90,000 back.
He said he had been in touch with about 70 investors in New Zealand.
Leon said there was absolutely no chance of getting the rest of his money back.
ISL traded under several names including, ISL Nominated Limited, Trading Strategies Limited, ISL Strategic Investments Limited and ISL Strategic Investments 100 Limited.
The ISL companies were advertised as providing returns or finding solutions that "generally outperform the market".
- APNZ