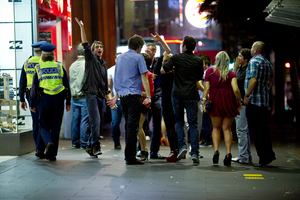 Licensing inspectors at the front line of reducing alcohol harm have told Justice Minister Judith Collins her law changes fall short of reform and their checklist includes a minimum price for beer, wine and spirits.
The Alcohol Reform Bill introduced new tools for inspectors, including the ability to enter clubs without identifying themselves and powers to fine rule-breaking bar managers on the spot.
But the New Zealand Institute of Liquor Licensing Inspectors said these measures were limited if the bill did not address wider causes of alcohol abuse such as low prices.
Institute president Murray Clearwater said it would not be a true reform of alcohol laws unless a "raft of changes" were made.
Mrs Collins gave a 10-minute speech on the Bill at the institute's annual conference in Wellington yesterday outlining the new tools available to licensing inspectors.
"I expect you to show a zero tolerance policy towards bad behaviour. We must send a clear message from the start that we mean business and this new law will be strictly enforced," she said.
Mr Clearwater said members had wanted to challenge her but she did not stay to answer questions because she had to catch a flight.
Asked what issues he wanted to raise with the minister, he said: "If we look at the abusers of alcohol, they look for price, they look for availability, they look for high-alcohol volume and they look for drinkability. Currently legislation allows all those four items to be there."
His organisation of 140 inspectors worked closely with police to make sure licence-holders, bar managers and hospitality workers complied with rules designed to reduce alcohol-related harm. The members' primary concern was improved measures to prevent heavy drinking before people reached licensed venues.
Mr Clearwater suggested restrictions on "pocket-money liquor" or cheap, high-strength RTDs, which could be eliminated through the introduction of a minimum price.
"It'll price the cheap slops off the market and you'll find mainstream alcohol will be available at a reasonable price."
Minimum pricing set a floor price per standard drink, meaning alcopops and inexpensive wine would rise to around $10 or $12 while higher quality drinks would be unaffected.
Mrs Collins has ruled out the inclusion of minimum pricing in the reforms before Parliament but has asked the ministry to research overseas schemes. She wanted to be sure minimum pricing did not penalise reasonable drinkers.
The ministry was to report back this month. But a spokesman told the Herald this week that the research was complex and taking longer than anticipated.
Maori Party MP Te Ururoa Flavell has tabled an amendment to include minimum pricing in the Bill, and Labour MP Lianne Dalziel was seeking an amendment to allow a floor price to be introduced in future without a law change.
FALLING SHORT
What the Bill offers to licensing inspectors
* Inspectors no longer have to identify themselves before entering bars/clubs
* Inspectors can issue instant fines
* Expands the number of infringement offences from 2 to 9
* Repeat offenders banned from holding liquor licence
* Local authorities can choose to adopt stricter trading hours or rules on the number and location of liquor stores.
What the inspectors want
* Higher price for alcohol, including a minimum price
* Measures to discourage "pre-loading", such as greater restrictions on cheap, high-strength drinks
* Compulsory local alcohol policies to reduce trading hours and the number and location of liquor stores.