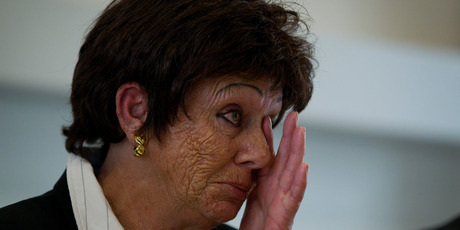 Missing woman Rae Portman's mother has spoken about the last time she talked to her daughter - when she was told her first grandchild was on the way.
More than 20 police are investigating the disappearance of the 33-year-old who was last seen in Auckland on June 20.
Her mother, Rebecca Norton, revealed yesterday that the last time Ms Portman rang her, she told her she was four months' pregnant.
Now, Ms Norton is struggling to cope with the "loss" of her child and unborn grandchild and begging anyone who can shed light on what happened to them to come forward.
"It's every mother's nightmare. And it's a nightmare that has come true at this stage," she said, trying to hold back tears.
"I think the hardest thing is not actually knowing what happened to Rae ... It's a little bit like grieving. Even though we don't know what happened to Rae, it's like grieving for the loss of your child.
"Rae is - or was - four months pregnant when she went missing. I'm not only grieving the loss of a daughter, I'm in the position where I'm grieving my first grandchild ...
It's just so very, very hard."
Ms Norton, who held hands with her sister Linda Davis throughout her emotional interview, believed her daughter would have been in contact by now if she could.
"She would have rung me. She knew she could always contact me at any time."
Ms Portman's bank accounts and phone have not been used since June 20. She checked into an Auckland motel around that date, but never checked out. "You can't just disappear. Nobody disappears. There has to be a body in some form somewhere. You don't just vanish into thin air," Ms Norton said.
Police say Ms Portman had links to the drug world. Ms Norton acknowledged her daughter had a somewhat troubled past.
"My priority is finding Rae. I'm not interested in names of any of her associates. I just want to find my daughter and bring her home."
Ms Norton reported her daughter missing in early July.
The pair were in regular contact but did not speak daily.
"Rae and I didn't live in each other's pockets. It could be up to three weeks before Rae and I would have a phone conversation.
"The last time I spoke to her, she was fine, happy. I just beg someone to come out. Somebody knows something, somewhere."
Detective Inspector Mark Gutry said the investigation into Ms Portman's disappearance was progressing and the team were building up a timeline of her movements up to June 20.
"We have spoken to a large number of her associates. We are positive about locating Rae and finding out what happened to her," he said.
He confirmed that a woman and two others had been arrested and charged during the course of the investigation. However, none of the arrests were relevant to Ms Portman's disappearance.
The woman allegedly assaulted Ms Portman in early June and two others were facing drugs charges.
CAN YOU HELP?
Contact police on 0800 723 767, Crimestoppers anonymously on 0800 555 111 or visit the Where is Rae (Bok) Portman Facebook page.
By Anna Leask @AnnaLeask

Email

Anna