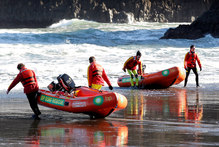 The family of missing Taranaki Outdoor Pursuits and Education Centre instructor Bryce Jourdain are planning a memorial service for him, despite having not yet recovered his body.
Mr Jourdain, 42, and Stephen Kahukaka-Gedye, 17, have been missing for three weeks following a tragic climbing accident at Paritutu Rock in Taranaki.
In a statement released today, Bryce Jourdain's wife, Robyn, said the family had shifted their attentions away from the rescue.
"We are now turning our minds to organising a memorial service to celebrate Bryce's life.
"We have not yet confirmed any date or venue."
New Plymouth police have confirmed the official search for the missing pair has been called off.
They said private searches would continue.
Robyn Jourdain said she has been overwhelmed by the support the family has received from the community.
"While we still want Bryce's body home so we can give him his final resting place, we hugely appreciate the rescue efforts of all involved in the search.
"We know they have exhausted every possible resource available in the past three weeks," she said.
- APNZ
By Hamish McNicol