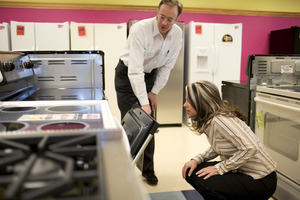 Spending thousands of dollars on top-of-the-line products does not protect customers from ending up with a "appliance nightmare", a consumer advocate says.
Consumer NZ's Right Appliance Guide contains examples of products it says show a higher price tag is not always pegged to quality. Its testing found expensive models of kettles that take an age to boil, vacuum cleaners that don't work well, and espresso machines that make poor coffee.
"Not everything out there is the same. And price isn't necessarily the determinant of quality," said Consumer chief executive Sue Chetwin.
A vacuum cleaner sold door-to-door for more than $3000 was dubbed "the monster at your door" after coming last in Consumer's testing. The Envirotect CNT-2100/EU scored no better for carpet cleaning than one which costs less than $100.
"It's an unwieldy beast that weighs almost 12kg. You can pick up a recommended vacuum that's half the weight and a fraction of the cost," the guide informs.
"The companies that tout these cleaners have claimed health benefits (less asthma and allergy attacks), but don't be fooled."
More testing revealed a $119 kettle which took five minutes to boil a litre of water - more time than the recommended models which take about one to three minutes.
Over a year, based on two cuppas a day, that difference would mean a person would lose 24 hours waiting for the jug to boil.
Consumer also found that two of the most expensive and elegant espresso machines - costing more than $1500 each - made poor coffee.
Four espressos made on the worst-performing model, the La Pavoni Stradivari STL, had a variance in temperatures of 22C. Another model was difficult to use and unevenly filled the cups when making two espressos at the same time.
The Consumer NZ Right Appliance Guide covers 13 of the most popular home appliances - from fridge-freezers to food processors and espresso machines. It contains information on what to consider when buying each appliance and can be downloaded free from www.theright appliance.org.nz.
The full results of Consumer NZ's testing are available to subscribers at www.consumer.org.nz.
Appliance tips
From Consumer NZ's Right Appliance Guide:
Fridge-freezers
Check your favourites will fit before buying - can you line the door shelves with your usual milk containers?
Dishwashers
Take along some of your everyday dinnerware to see how it fits - can the baskets close easily?
Ovens
Those with a pyrolytic setting are easier to clean. Once set, the oven heats to 500C and food residues are turned to ash.
Cooktops
Flame-failure protection is an essential safety feature on gas cooktops.
Dryers
The cheap running costs of heat-pump dryers don't compensate for their hefty price tags.
Washing machines
Don't overdose or use the wrong detergent in front loaders - too much foam can cause electrical problems.
Vacuum cleaners
More power (watts) doesn't necessarily mean a better machine.
Microwaves
If a microwave is kept clean , food will cook faster.
Food processors
Dishwasher-safe attachments make it easier to clean up.
Espresso machines
Don't bother with froth enhancers that attach to the steam wand - they force too much air into the milk.
Jugs and kettles
Some models have a safety-lock lid that keeps the lid on if the jug is overturned.
Breadmakers
Bread pans should never be immersed in water or washed in a dishwasher - this can rust the underside of the pan.
Toasters
Families with a 4-slice model should look for one with separate slot controls, so power isn't wasted when only two pieces of toast are needed.