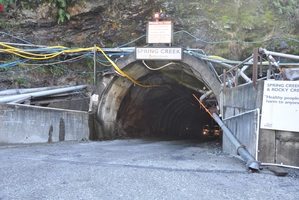 The 230 staff at the Spring Creek underground mine are nervously awaiting a Monday meeting when Solid Energy management will discuss an internal review and decide how best to combat its money woes.
The mine contributes at least $37 million a year in wages and services to the Greymouth economy.
Chief executive Don Elder announced the widespread review last week after the state-owned coal producer forecast a $200m drop in revenue for the financial year.
There has been strong speculation that the troubled Spring Creek Mine, bleeding more than $5m a month, might be mothballed as a cost-cutting measure.
If it is, it will not be the first time. Spring Creek was mothballed in 2001, just 11 months after it opened, and staff were laid off again in 2004 after concerns about development rates and coal quality. The mine reopened 18 months later, in November 2005, but also spent three months idle after the 2010 Pike River Mine disaster.
Spring Creek has been in 'development' mode for all of 2012 and is not expected to resume production this year.
West Coast-Tasman MP Damien O'Connor said today the financial impact on the Greymouth community if the mine was closed would be dire.
"I am concerned about the future of Spring Creek and its potential impact on the Grey district," he said,
"However, when it opened the mine with Todd Energy in 2001, Solid Energy created a mine that produced great difficulties for the company and I applaud the way that they have countered them. I just hope they can continue to keep the mine afloat."
Mr O'Connor was more forthright about the National Government's decision to withdraw Solid Energy from its partial privatisation of state-owned assets.
The Government announced late yesterday that Solid Energy's value, due to falling international coal prices, had dropped from $2.8 billion to $1.7 billion and was in no shape to be sold.
Mr O'Connor, who organised a protest march in Greymouth against asset sales and, in conjunction with the Green Party, helped collect about 300,000 signatures of people opposed to the sales programme, said the news came as no surprise.
"It's an admission by government that the whole state asset sales programme was a disastrous proposal for New Zealand," he said.
- Greymouth Star