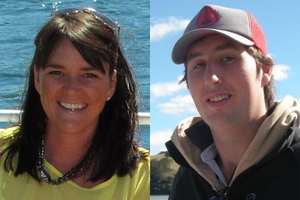 Two skiers lost overnight on an isolated mountain made a shelter out of branches and a tree stump, and tried to stay awake until they could hike to safety.
Sarah Ivey, 28, and James Macphee, 27, were reported missing on Monday night after they failed to return from a hike to the summit of the Ohau snow fields in the central South Island.
Ivey, a photographer for the Herald, had already tramped to the summit on Sunday and again with Mr Macphee on Monday morning, skiing back down.
They decided to go for one more run on Monday afternoon - and were not seen again until about 8am yesterday.
After a night in almost freezing temperatures, the pair were spotted by a helicopter searching for them.
"As soon as I saw the chopper I burst into tears and fell over," Ivey said.
"We were so tired, we'd done some pretty serious walking across some pretty serious terrain. I don't cry very often ... it was pretty emotional."
After meeting her worried family, who were waiting for news at Ohau Lodge, Ivey spoke about her ordeal.
Not long after the pair reached the summit, they were engulfed by heavy fog. They waited about 40 minutes for it to clear and decided to ski back down when it didn't.
"Somehow we became disoriented. I noticed it wasn't as steep as it should be ... and when we stopped I heard the Maitland River. That's when I knew we were on the wrong side of the mountain to where we should have been."
Both are experienced skiers and as Ivey had grown up in the area she knew the terrain well.
"We decided to carry on down to the river. We knew we could walk out from there," Ivey said.
As they walked they left markers for searchers.
Mr Macphee wrote "gone to river" in the snow with a stick and they "stomped around" leaving boot markings.
They also wrote "help" in the shingle before walking along a track they thought would lead them to safety - but it veered away from the river. After navigating a ravine, walking barefoot in the icy river and clambering up rocks they went back to high ground to wait.
"By this time it was getting pretty dark. We put some branches over a tree stump and hunkered down. We pretty much spent the night talking rubbish just trying to stay awake. We knew that if one of us fell into a deep sleep we'd be in the s***. So every half hour one of us would yell out 'you right'?"
They started walking again at dawn about 7am, eating a bite of a muesli bar each for energy.
As they reached a clearing they heard the helicopter.
"If it ever happened again, I would stay on the ridge and call someone to come and get us," Ivey said.
"It was scary at times, but it never crossed my mind that we wouldn't get found ... There was no panicking."
She said Search and Rescue, avalanche dog teams, Department of Conservation, snowfield staff, police and others in the search were "amazing".
Police said searchers found the markers the pair left and commended them for it. But if they had stayed on the ridge they would have been found more quickly.
- Additional reporting Rebecca Ryan of the Oamaru Mail