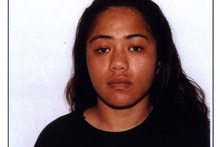 One of the sisters jailed for the brutal murder of south Auckland man Raymond Mullins has been granted parole and will be released from prison this month.
However, the board has banned Katrina Fenton from living in Auckland "out of respect" for Mr Mullins' family.
Fenton was 20 when she was sentenced to life in prison in 2000. She became eligible for parole in 2010.
Her sister Natalie Fenton, 15 at the time, and their cousin Daniella Bowman, 18, were convicted for their part in the slaying.
Mr Mullins was killed in a frenzied attack led by the younger Fenton sister in his home in April 1999.
Natalie Fenton stabbed him in the chest repeatedly with his own steak knife until the blade bent and she had to fetch another. Katrina Fenton bashed Mr Mullins over the head with a hammer, while Bowman attacked him with a pot.
Bowman's young son witnessed the attack.
All three murderers have been denied parole in the past. However, at a hearing on July 18 the board decided that it was "appropriate" to release Katrina Fenton.
She had been turned down in February after the board heard of an "incident" involving her having a "puff of cannabis".
But the board said that since then she had made up lost ground.
She was supported at the hearing by a couple she was close to and considered family, and another supporter.
"He spoke of job opportunities he was able to assist in creating for her with training in computers and the potential for a career in graphic design, if that is what she would want," said the board decision, released yesterday.
"Earlier this week, board members met with members of the family of the victim of Ms Fenton's offending and the board has noted their concerns, discussed them and taken them into account in coming to our decision today.
"We are nevertheless satisfied that Ms Fenton has reached the stage in her sentence where it is appropriate for her to be released on parole. Accordingly, we intend to release her at this stage subject to standard and special conditions of release."
The board placed a number of conditions on Fenton's parole, including that she not live in Auckland - in accordance with the wishes of Mr Mullins' family.
She has also been ordered to attend alcohol and drug counselling focussing on relapse prevention, attend a psychological assessment and then complete any treatment deemed necessary, not to move address or start, terminate or change employment without permission from her probation officer and not to communicate or associate with particular people.
Fenton must also come before the board for a monitoring meeting in six months.
The same day her sister was granted parole, Natalie Fenton was refused. She will appear before the board again in six months and Bowman's next hearing is in February.
By Anna Leask @AnnaLeask

Email

Anna