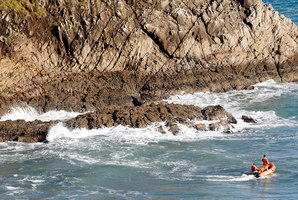 Police divers are now involved in the search for the bodies of three people, who were swept off Paritutu Rock in New Plymouth.
Today is the first opportunity the national dive squad has had to operate in the area, because of bad weather and sea conditions.
Senior Constable Jeff McGrath says the dive team are currently in the water at the base of Paritutu Rock.
"It's their intention to search the water beneath Paritutu Rock and the immediate environment to see if there's any objects of interest for us in relation to our search."
The two Spotswood College students and their instructor have been missing for over a week.
- NEWSTALK ZB