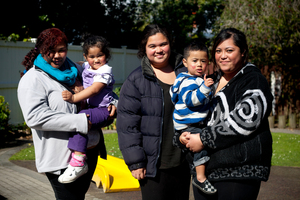 Two days before existing teenage welfare benefits end, three teen parents are still in the dark about how the new payment card replacing them will work.
Auckland mums Darian Lesa and Tatiana Kaiwahia, both 18, and Alicia Lio, 17, have received letters from Work and Income saying their current benefits will stop on Monday, August 20, and be replaced by a new Young Parent Payment (YPP).
The YPP, and a similar Youth Payment for teens aged 16 and 17 without children, will still add up to the same as the current benefits, ranging from $136 a week for a young parent living with their own parents up to $293 for sole parents aged 18 and over.
But under the new system only $50 will be paid in cash.
Rent or board will be paid directly to landlords or parents, and the rest will be loaded onto a payment card to buy "food and groceries at approved stores".
Unfortunately no one has yet told any of the teenage mums at Mt Eden's Eden Campus teen parent unit what the approved stores are or what exactly they can spend their cards on.
They have also yet to receive their cards.
Ms Lesa said she pays $55 a week to come in from Papatoetoe by train and bus and wants to know whether she can use her payment card for transport.
Ms Kaiwahia and Ms Lio have both had to pay $76 for an ambulance several times for themselves and their daughters, aged almost 3 and almost 1, and want to know if the payment card can be used for such emergencies.
Work and Income told them in its August 6 letter: "One of the biggest differences is that you will no longer have a Work and Income case manager. Instead a local community-based youth service provider will work closely with you to plan for what you will need to do."
But none of the three young mothers who spoke to the Weekend Herald knew who their service provider would be, although the providers' names were posted last month on the Ministry of Social Development website.
Youthline, which will provide the service in most of the former Auckland City, North Shore and Rodney, said it also did not yet know the names of its new clients and expected to get them gradually over the next few months.
Work and Income head Debbie Power said young beneficiaries would not move onto the payment card until they met their new service providers "over the coming months".
She said the payment card could be spent only at food stores. Transport and medical costs would have to be paid out of the $50 cash payment, plus a disability allowance if applicable.
Young parents would also be able to earn "incentive payments" of an extra $10 a week for staying in education or training, another $10 for undergoing budgeting, and another $10 if they met all their parenting obligations including parenting education, enrolling their children with a doctor or Well Child provider, and enrolling them in early childhood education or childcare.
Youth payments
* Rent/board will be paid directly to landlord/parents
* Cash payment up to $50
* Any remaining part of the benefit will be loaded on to a payment card to buy food and groceries