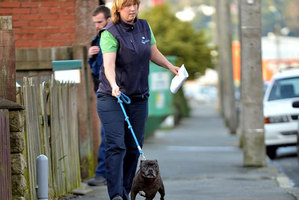 A dog will be put down after it bit a 1-year-old girl at a house in Dunedin.
Police and animal control officers were called to the house about 4pm after ambulance staff treated the girl for a dog bite.
The child's father, who did not want to be identified, said the staffordshire bull terrier had never attacked anyone before.
"She was playing with it and it had a bite at her. She's not hurt too bad."
The dog would be put down.
The girl was in a stable condition in Dunedin Hospital last night.
Dunedin City Council senior animal control officer Jim Pryde said the incident was a warning to people with young children to be vigilant when they were around animals.
"This actually happened in the family home and it was a serious incident and the sort of thing that can be prevented through supervision of children and dogs, and separation, if necessary...
"It's important young children are supervised around animals, because this is something that can happen. Dogs can be great family pets, but owners need to have awareness of what can happen."