Have you seen a funnel cloud in Auckland and have photos or video? Email us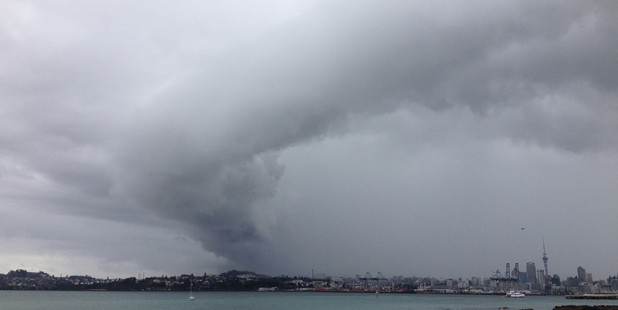 Heavy rain is being reported over Auckland today, while Canterbury and Otago could have a few days' reprieve from the rain which has drenched the regions since the weekend.
A possible sighting of a funnel cloud has been reported in Auckland, WeatherWatch.co.nz analyst Philip Duncan said.
"There's a lot of instability around Auckland today. Huge cloud build ups, big showers and some of the ingredients needed to create funnel clouds" said Duncan.
"I think we just got all the rain in the world here in Auckland," wrote Jenny Serwylo on Twitter.
"Auckland is going to look like Venice soon if this rain continues!" wrote Larissa Eruera.
Mr Duncan says a funnel cloud becomes a tornado only if it touches the ground which didn't happen in this case.
The main area of showers is moving over South Auckland now and conditions will improve this evening.
Extremely high levels of rain were passing over much of Auckland this afternoon.
Over the next few days neither a high nor a low would sit over much of the country, Duncan said.
The country would be in a fairly neutral westerly flow which would create a few showers but also long sunny spells, he said.
North Otago rural residents were this morning warned to not make any non-essential travel after flooding closed 43 roads in the region.
Heavy rain pounded the area for days, swelling rivers and streams as more rain landed on already sodden land.
Various rivers in the region reached their peak last night and were receding today.
MetService this morning lifted all severe weather warnings for the regions.
Mr Duncan said it any showers over the next few days were more likely in the north and west of the North Island.
Most regions would see the sun in the next 48 hours, he said.
It was possible that temperatures could hit the 20 degree mark in a few isolated pockets.
- APNZ