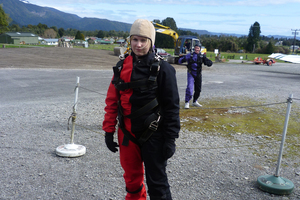 The coronial inquest into the deaths of nine people who were killed on a skydiving trip at Fox Glacier opened this morning with statements from the families of the victims.
Four international tourists - Irishman Patrick Byrne, 26, Australian man Glen Bourke, 18, German woman Annika Kirsten, 23, and British man Bradley Coker, 24 - died in a plane crash at the glacier in September 2010.
The New Zealanders killed were pilot Chaminda Senadhira, 33, Skydive New Zealand director Rod Miller, 55, Australian-born Motueka man Adam Bennett, 47, New Plymouth man Michael Suter, 32, and Christopher McDonald, 62, from Mapua.
The inquest, which is being heard in Greymouth by Coroner Richard McElrea, is scheduled to run until the end of the week and is being streamed live on the Ministry of Justice website for the overseas families of victims who are unable to attend.
A statement from the parents of 23-year-old German Annika Kirsten told the court of the pain caused by their loss.
"On September 4 2010, our family was destroyed. Our beloved daughter and our only child crashed down ... and was burnt alive,'' said Reverend Kingsford on behalf of the Kirsten family.
The statement painted a picture of an adventurous young woman who had travelled widely through the United States, Canada and Australia.
"After a tough semester at university ... we suggested she recover in New Zealand.
"We thought of New Zealand as a safe country to travel to."
Her parents' statement outlined their daughter's ambition to become a travel reporter.
"She loved to take photos," read Reverend Kirsten.
"It was her aim to publish travel reports in geographical books and magazines."
Ms Kirsten's parents also said in the statement that they held the Civil Aviation Authority and aircraft operators Skydive New Zealand responsible for the accident.
The parents of Bradley Coker agreed with this, and criticised the lack of accountability for the accident in their statement to the court.
"There is no accountability in New Zealand," read the statement.
"The lack of regulation was not an issue.
"There were major failings of the civil aviation authorities and the aircraft operators.''
The inquest continues.
Watch the live stream here.
- APNZ