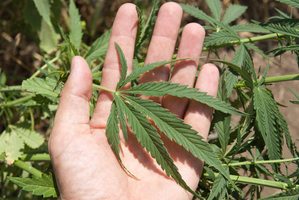 An unrepentant Borland said he would continue to defy the country's marijuana laws when he was released. Photo / Thinkstock
A man who walked into Whangarei police station with a number of cannabis seedlings he had been cultivating has vowed to continue defying the country's drug laws when he is released from prison.
But police said they will continue to take action against anybody growing drugs and the man can expect to be arrested if caught.
Brian Borland, 56, has been sentenced to six months' jail after pleading guilty to one charge of cultivating cannabis and one of breaching special release conditions after he went into Whangarei Police Station with up to 39 cannabis seedlings on June 1.
It was initially reported that Borland went to the police station to hand himself in on outstanding warrants and as he had nowhere to live took the plants with him, asking police if they could look after them for him. The plants were destroyed and he was charged with their cultivation.
He appeared in Kaikohe District Court on July 17 where he pleaded guilty to the charges and was sent to Ngawha Prison for six months.
He will be released before the end of this month due to the time he had already spent in custody.
But an unrepentant Borland said he would continue to defy the country's marijuana laws when he was released.
"When I experienced the joys of cannabis for the first time in 1973 it wasn't illegal ... it was banned the following year in 1974," he said.
"I could not see any reason why it should be banned, 38 years later I still feel the same way."
Borland said dope prohibition had only made many thousands of ordinary Kiwis criminals, and claimed there were up to 700,000 people in the country who smoked the drug regularly.
However, relieving Whangarei police area commander Inspector Tracy Phillips said officers had a responsibility to enforce the law, and that includes illicit drug cultivation, dealing and manufacturing.
"Cannabis is prolific in Northland and has negative impacts on our communities, particularly our young people," Mr Phillips said.
"It is also associated with other criminal activities such as burglary and violence. If anyone is caught growing or dealing in this or other drugs then we will take action."
Northland is the cannabis capital of the country, with a third of the marijuana plants seized and destroyed by police in six-month long, nationwide operations targeting drug growers and dealers grown in the region.
for more articles from this region, go to NORTHERN ADVOCATE