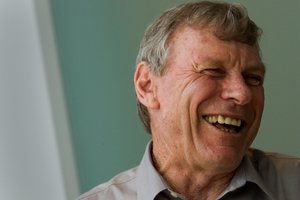 Fit, of laughter: Peter Snell. Photo / Paul Estcourt
The claim to be green and gold - now they are just green with envy.
After week one, the Australians are suffering their worst Olympic performance in almost three decades, and the Kiwis are rubbing salt in their wounds.
New Zealand briefly broke into the Top 10 on the medal table this weekend, leaving the Australians trailing behind in 18th position.
Rower Mahe Drysdale took our gold medal count to three within an hour of double scullers Eric Murray and Hamish Bond winning gold on Friday.
The Australians, who were predicted to finish in the top 10, had only managed to secure one gold by that point.
To put our achievements into perspective, the small South Island town of Picton has won the same number of gold medals as all of Australia.
Australian personality and celebrity manager Max Markson said the nation was in shock and flags were raised at half-mast.
"There is a black cloud with a silver fern lining because everyone in Australia is already planning to leave and go to New Zealand now," Markson said, tongue firmly in cheek. "It is a sour Kiwifruit taste in the Aussies' mouths," he added.
Australian media expressed their embarrassment yesterday with one news site dubbing it "transtasman torment".
"It's painful enough that Australia is 18th on the medal table. But to be sitting behind the New Zealanders ... Please!", News.com.au wrote.
Aussie media motormouth Peter FitzSimons was unusually subdued about New Zealand's superior medal haul.
"For once I'm going to shut up and congratulate the Kiwis," he said.
"You guys have done all this on a zero budget while we have been pouring a lot of cash into the elite end of sports.
Meanwhile, former New Zealand Olympian Paul MacDonald said it felt good to be ahead of our neighbours.
MacDonald collected two gold medals in 1984 in Los Angeles - it was the last time New Zealand beat Australia at an Olympic Games.
Kiwi Olympic champion Sir Peter Snell also stuck the knife into Australians, despite not living in New Zealand for decades.
The United States-based triple gold medallist said, "I'm not broke up about it, that rivalry's still there," before breaking into a minute-long fit of laughter.