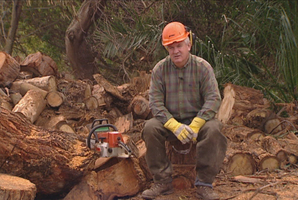 I purchased a second-hand Stihl chainsaw on Trade Me, which turned out to be a fake.
It looked like the real McCoy but as Stihl later explained to me, the chainbrake - the safety device designed to prevent the operator getting his head cut open - doesn't work.
I should have known better than to buy a second-hand chainsaw on Trade Me. But then ... the questions began. Where was it made? How did it get into the country?"
Posing as a foreign importer, I travelled to the Chinese factory where the fake chainsaw was made.
We learned how they limit the risk of getting caught by the police, how they limit the potential fines they will face if they are caught and how they limit the risks of their counterfeits getting stopped at the borders.
Western companies manufacture in China because the labour is cheap and the workforce relatively skilled.
However there is a major downside.
They must be vigilant in protecting their intellectual property because someone in China will try to make fake versions.
Poorly made in China screens on TVOne's Sunday at 7.30 tonight.