Never mind world records and Olympic records, it's the more eccentric New Zealand records and statistics that really defy belief, such as the fact Kiwis eat 60 million gingernut biscuits a year. Celeste Gorrell Anstiss reports.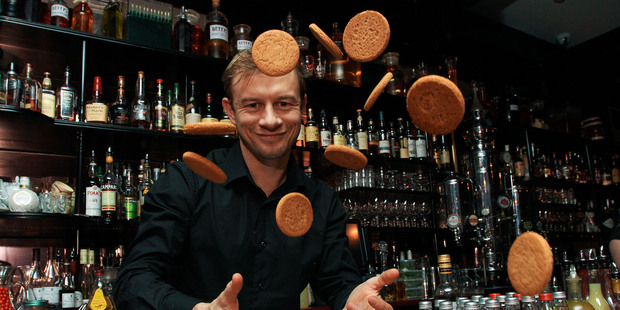 Some records are jaw-dropping, and some are jaw-breaking.
Judge Glen Marshall learned that the hard way this year.
After a morning dealing with tough cookies at the Hamilton District Court, he fell foul of a gingernut during the tea break.
His jury trial had to be adjourned while he was rushed to the dentist to have his chipped tooth glued back into place.
That was just one of the 60 million gingernuts that New Zealanders eat every year. It's a pity Judge Marshall did not dunk the biscuit in his tea, as recommended by Peter Janssen, author of 60 Million Gingernuts: a book of New Zealand Records.
Bartender Jason Clark says there's an even better way to consume gingernuts - by dunking them in a warm rum cocktail.
Clark, a barman at Wellington nightspots Betty's Function House and Hummingbird, recently won the nationwide cocktail competition with a spicy twist on the traditional hot toddy, served with a gingernut.
He makes it by frying fresh banana, spice, butterscotch, rum and butter over a gas stove.
"The biscuit matches perfectly well with the spices and the rum," he says.
The national love affair with gingernuts is summed up by scientist and avid fan Jill Stanley, who says she is glad it was Marmite knocked off the shelves by the Christchurch earthquake. "Marmite is important," she says, "but if I had to choose I'm glad I've still got gingernuts."
Janssen's book, which went on sale this week, documents New Zealand's most inspiring and unusual records and statistics. But it was our biscuit eating that he found most fascinating. And here are our 10 favourites:
10. Largest seabird
Our albatross spans 3m from wing to wing, making it the biggest seabird in the world.
9. Butter consumption
New Zealanders consume an average of 4.68kg of butter each year, more than any other country in the world.
8. Most All Blacks per capita
Well, New Zealand, of course. But Invercargill in particular has contributed the most rugby talent with 33 All Blacks, including World Cup player Jimmy Cowan, disproportionate to its small size. Auckland has contributed 136.
7. Ruby and Liam
The country's most popular names for a girl and a boy last year. When records began 60 years ago, it was John and Christine.
6. Heaviest betting
New Zealand's record for the most amount of money wagered on a single event was set in 2010 at the NZ Trotting Cup, when $8.73 million went through the TAB's tills.
5. Tallest All Black
Former lock Mark "Cowboy" Cooksley (1992-2001) stands at a huge 2.05m and weighs in at 125kg.
4. Steepest street
Baldwin St, Dunedin, is said to be the steepest in the world. Every 3m you walk, you climb more than a metre.
3. Fizzy water
Te Aroha is home to the world's only geyser that spits out drinkable soda water.
2. Heaviest insect
Although some sources give the title to the African goliath beetle, New Zealand's giant weta holds the official world record, weighing in at 71g. That's three times heavier than a mouse.
1. Gingernuts
The most eaten biscuit in the country, we consume 60 million each year or 2.7 million packets. Griffin's Super Wine biscuits are next with 2.5 million packets a year, followed by Chocolate Thins (1.6 million). We go through 1.5 million packets of both Toffee Pops and malt biscuits.
* The Herald on Sunday is giving away 10 copies of 60 million gingernuts - a book of New Zealand records by Peter Janssen (Hodder Moa, RRP $27.99). To enter, visit winwithheraldonsunday.co.nz and enter the keyword GINGERNUTS, along with your details. Entries close at midnight on Wednesday, August 8.