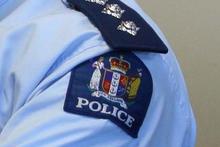 An early morning home invasion ended with police using spikes and dogs to stop an alleged violent offender this morning.
Police were called to a house at Stanmore Bay just after 5am, after residents reported that a group of men were in their house taking property.
It is understood one resident was attacked with a weapon and suffered arm injuries during the fracas at the Kauri Rd house.
A neighbour told the Herald he heard a lot of yelling, arguing and then the smashing of glass before a car took off at high speed sounding like it was doing a "burn out".
"It was pretty scary because it was happening right there," he said.
"There was a lot of noise. It sounded like two or more people arguing. There was a lot of raised voices and swear words. Then there was a very loud car and skidding wheels."
Police said three people lived at the house and were home at the time.
They allege three offenders arrived in a car, taking property and assaulting a resident with a weapon - possibly a baseball bat.
They then fled, taking the car they arrived in and two others that were parked at the house.
Police followed one of the stolen cars and used road spikes to stop it. The driver then took off on foot but was tracked and caught by a police dog and handler.
He was in custody yesterday and was expected to be charged with failing to stop and aggravated burglary.
The two other alleged offenders were yet to be located. The cars they left Kauri Rd in were found abandoned and police were yesterday carrying out forensic examinations.
The property taken from the house was found in the vehicles.
The Herald understands the home invasion was not random, and that the residents and alleged attackers are known to each other. Police would not comment but said the investigation was ongoing.
By Anna Leask @AnnaLeask

Email

Anna