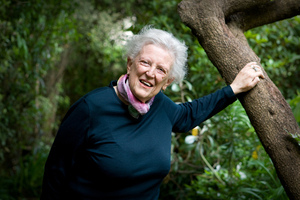 Hundreds of people gathered in Christchurch today to farewell children's author Margaret Mahy.
Family, friends, fellow writers, editors and former colleagues paid tribute to the 76-year-old who died last week after a short battle with cancer.
The Geodome tent at Hagley Park was almost filled to its 700-seat capacity to celebrate her life at a two-hour public memorial service.
Christchurch children's author Gavin Bishop said Mahy's writing for children was just as important as any other genre, going as far as saying her stories were "as profound and mysterious as anything you would find in Shakespeare.''
He was sure that children would be enjoying her tales in hundreds of years to come.
The service included songs and readings from some of Mahy's vast collection of more than 200 books, short stories and poems.
Even her grandchildren took the stage to pay tribute to the Whakatane-born author who won every children's literary award the world has to offer.
Anglican minister Louise Deans opened the service saying that Mahy, who lived at Governor's Bay in the Port Hills, Christchurch, possessed a "magical imagination'' that has had children and parents "chuckling in different languages'' for more than 40 years.
"It's awful to contemplate the thought that there'll be no more stories from her.''
A private service for her close family was held on Monday and her ashes were at the service.
Her editor Lorain Day described her as a "genius'' while fellow kids' author Kate Di Goldi said she had "an astonishing, imaginative engine'' that churned out classic tales.
Mahy's biographer and friend Tessa Duder told of her life, including her early struggles to get her stories published, and rise to international literary stardom.
- APNZ