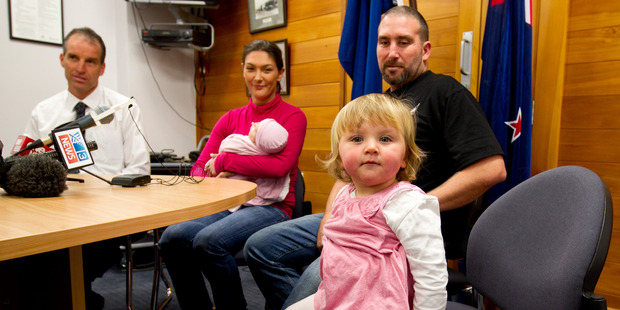 Scott and Sam Barker knew the family friend staying in their home near Kaukapakapa was troubled. But there were no signs that she was about to put their family through a 36-hour abduction nightmare.
"I don't know her or her history but from what I picked up when she was at the house, she wasn't too well, not quite right, but not to the extent [she would do] this sort of thing," Mr Barker, 40, said.
His impression of Skye Mason, 27, was not good but they took her in after a phone call from a Silverdale shop keeper who found her sleeping outside his business. But after two days with the family, Mason allegedly abducted 17-month-old Alyssa and took her to associates in West Auckland.
Her movements with Alyssa aren't known but she was eventually caught when a woman she was staying with in Swanson recognised her from the television news and called police once Mason had gone to sleep.
Mrs Barker, 24, knew Mason vaguely from a decade ago when she was the girlfriend of her cousin, who was staying with the family.
The cousin died in a car accident while he and Mason were driving home.
The Barkers took Mason in because she said she wanted to change her lifestyle. "Through conversations I had with Skye, she wanted to help herself," Mrs Barker said. "We're happy to help anyone who wants to help themselves.
"You know everyone needs help some time in their life with something and she was asking for help."
But the couple told media yesterday they would be more cautious in future and Mrs Barker said if a guest had one of her children, "I wouldn't let them out of my sight, that's for sure".
During the 36 hours Alyssa was gone they feared the worst.
The day she disappeared, Mrs Barker was looking after her 3-month-old daughter, Kashine, and could see Mason walking with Alyssa outside.
Before then, Mason had shown little interest in the children and didn't want to hold Kashine, saying she "didn't like to touch other people's children".
When they didn't come inside, Mrs Barker wondered what was happening.
She called police, who drew officers from across Auckland and took the unprecedented step of flashing messages on electronic motorway signs the next day, appealing for sightings.
Mrs Barker, desperate for news, got no sleep on Friday night, and Mr Barker feared Alyssa, lightly clad in the cold, might be hidden or injured somewhere on their 4ha property.
"Originally we weren't sure if she was still in the area in the bush, the paddock down by the lake, or something like that. We had no idea, so thoughts are running through your head: 'Have they fallen down a bank, or is she hiding in the bush with her?"'
Now they want to know what happened while Alyssa was with Mason. "There are things crossing our mind we want to know - peace-of-mind sort of things - but we haven't had the chance or opportunity to find out those things," Mr Barker said.
Detective Sergeant Murray Free said police were still piecing together Mason's movements but were grateful to the members of the public who called them with sightings.
The search for Alyssa was urgent because police held grave fears for her health and safety, although Mr Free said they were grateful Mason didn't harm the child.
Despite all she'd been through, Alyssa was showing no adverse signs. "She hasn't changed - nothing's changed," her father said. "She's a very happy baby. She wakes up laughing and goes to sleep laughing."
No words could express what the parents felt when they were reunited with Alyssa on Saturday evening.
Mr Free said Mason would appear in the Waitakere District Court today on charges of abducting a child. She would also have a psychiatric assessment.