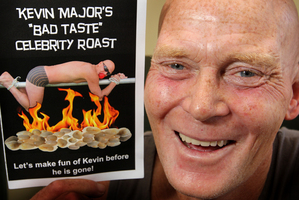 He's been described as everything from outrageous to obnoxious, a rough-and-tumble man's man to a cross-dressing romantic.
But above all, his loved ones say, Kevin Major was an inspiration who laughed in death's face - earning international admiration when he responded to terminal cancer with a bad-taste send-off for his mates to roast him.
The Tauranga personality died this week, having made it just past his 50th birthday, eight years after he was diagnosed with prostate cancer.
After 11 trips to Mexico for specialist treatment costing more than $70,000, Mr Major had managed to beat his prostate cancer, but not before it spread to other parts of his body.
He earlier told the Weekend Herald how being given just two months to live last September was "a shock and a real slap in the face".
But he refused to accept his lot with sadness, saying he had no bitterness or regrets.
When a mate told him he didn't want to organise his funeral, Mr Major came up with something lighter - a celebrity roast-style party with a few simple ground rules: no boring stories, soppiness or crying.
Abuse was to be delivered in less than a minute, fancy dress compulsory, and invitations pictured him tied to a spit in his underwear alongside the order: "Let's make fun of Kevin before he's gone."
"It's about having a bloody big laugh - we have a gong so if anyone tries any sentimental crap, we'll just whack it," he said last year.
The games didn't end there.
He and wife Ailey turned up at a Bay of Plenty Steamers match in blue and gold full body paint, and at a celebration expected to draw hundreds on Friday, bright colours have been made mandatory.
The dress code - specifically ordered by Mr Major with a playlist dominated by The B-52s - is fitting.
He once won a fashion-in-the-field event in full drag.
He repeated the stunt to enter a female-only cancer fundraising walk, and appeared in a series of outlandish outfits when he livened up the 2001 race for Tauranga's mayoralty.
Ailey joined in the fun when the pair - he in women's lingerie, she as a French maid - performed a Rocky Horror Picture Show number halfway through the wedding of Jonah Lomu's former manager, Phil Kingsley Jones.
Speaking yesterday, she described her husband as "a big softy" who knelt before her and a crowd of onlookers with a ring - simply so they could renew their wedding vows.
"Just a couple of weeks ago at karaoke in the bar across the road, I sang Phil Collins' Against All Odds to him, and there were tears rolling down his cheeks. It was beautiful. He just stood there and said, 'I don't want to leave you."'
Mr Major became a staunch advocate for men to regularly check their prostate - something he said might have saved him - but more, Ailey said, as an inspiration to others.
"People wrote to him from all around the world ... He just touched so many lives.
"We had the cancer always hanging over our heads and we always knew we were on borrowed time, so we made the most of it.
"I think the legacy he'd like to leave people is to live like you're going to die tomorrow."