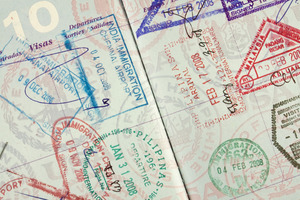 A further 17 Chinese nationals have been found to have obtained their student visas fraudulently, taking the total number of non-compliant applications lodged in Immigration New Zealand's Beijing office to 296.
"There were originally 279 applications processed at the Beijing branch which contained confirmed fraud, and 44 containing suspected fraud that required site visits to confirm suspicions," said head of immigration Steve Stuart.
"As a result of completed site visits, a further 17 applications have been confirmed as containing fraud."
Mr Stuart said this meant there were 236 people in New Zealand on fraudulently obtained student visas.
This included 35 who had been found and served with deportation liability notices.
Five of these had been deported and two others had left New Zealand voluntarily.
Mr Stuart said the students holding non-compliant visas were enrolled at 23 Auckland education providers.
But he would not give the names of the institutions.
He said investigations were continuing at two education providers which were believed to have "issues with non-attendance, non-enrolment and poor documentation".
"In cases where providers are not meeting immigration or education requirements, sanctions can include suspending the issuing of visas to students to attend the institution," Mr Stuart said.
At least eight Chinese on student visas had been found working in a vineyard in Blenheim and two others in Christchurch, despite being enrolled in Auckland schools.
An immigration agent, who did not want to be named, claimed that at least two Auckland training establishments were offering him from 70 per cent to 85 per cent commission if he could find foreign students who "did not utilise school resources".
"These are students who only require a student visa to remain in New Zealand but do not intend to attend school," the agent said.
"They usually want to live outside Auckland, maybe work in a vineyard, but their attendance is kept by logging on to a school website, and the school will sign their attendance sheet maybe every fortnight."
The agent said one institution had enrolled about 20 of the Chinese students on fraudulently obtained visas.
The New Zealand Qualifications Authority, which was working with Immigration on the investigations, said it would be "very concerned" if students were enrolled in an educational provider but were not attending classes.
"It is a condition of the student visa that the holder maintains regular attendance and that non-attendance may result in permit revocation," an authority spokesman said.
"An establishment proven to be engaged in this type of behaviour would be in breach of the authority's policies and criteria for ongoing registration.
"As a result it may be subject to various statutory interventions stopping enrolment or cancellation of registration as a training establishment."