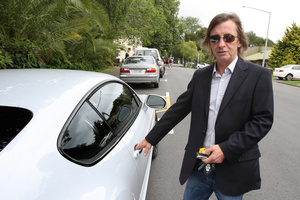 For AC/DC fan Cameron Taylor, a 12th birthday celebration booked at Phil's Place restaurant in Tauranga was second only to meeting the man himself - Phil's Place is owned by AC/DC drummer Phil Rudd.
But excitement turned to disappointment last Saturday night when the Taylor family turned up to find the restaurant in darkness and closed, despite having confirmed the dinner booking with the restaurant a week earlier.
Cameron's dad Glenn Taylor, who lives on Auckland's North Shore, had booked the table for 6pm Saturday for three people.
The booking had been confirmed on July 13 by an email signed by the maitre'd.
Cameron's mother Tracey Taylor said: "When we turned up, there was no one there. It was dark inside and there was just a note on the door saying it would reopen on Monday 23 July. We were all dressed up and disappointed."
"We had all been looking forward to going to Phil's Place since it opened.
Cameron is a fan and AC/DC was his first rock concert with Glenn and I at Western Springs in 2010. Glenn is also a huge fan ... it's a bit embarrassing but Glenn even took his copy of his AC/DC autobiography to the dinner that he was going to ask Phil to sign if he saw him there. I told him that it wouldn't be likely but we didn't think the restaurant would be closed."
Since then, Mrs Taylor has emailed the restaurant for an explanation but has not received a reply.
At lunchtime yesterday, the restaurant was still closed with the same sign up.
The cafe adjacent to the restaurant, The Last Gasp, which is cited on the restaurant's website as being part of Phil's Place, was still open. A staff member said she did not know why the restaurant was closed.
Karen Gravatt, a consultant at Cooney Lees Morgan in Tauranga, who has acted for Phil Rudd, said the restaurant had simply closed for a few days in a quiet period.
"There is no story here ... just a few days closed over a quiet period. I'm fairly sure that's not at all newsworthy."
Rudd bought the venue in August last year and refurbished it extensively before opening it in October last year.
For more articles from this region, go to Bay of Plenty Times