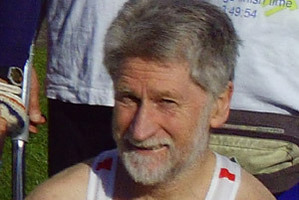 Hokitika-born and bred Bill O'Connor will carry the Olympic torch through the streets of outer London, on Wednesday.
The eldest of seven from a well-known Kokatahi athletic and farming family, the 67-year-old school teacher, who has lived in London for 40 years, will carry the torch on day 68; the second to last leg from Headstone Manor and Harrow Museum to the venue for Olympic football, badminton and gymnastics at the Wembley Arena.
Before moving to England he was a familiar figure in the former Great Westland Marathon, between Hokitika and Greymouth, along with his sister Mary, an Olympic marathon runner, and Catholic priest brother Father Dan O'Connor. The three have ensured the O'Connor name is on athletic halls of fame throughout New Zealand and overseas.
Bill O'Connor has run every London Marathon since it began 32 years ago, his first as a 35-year-old at the inaugural event in 1981 coming home in a commendable 2hrs.35.52. His best effort, 2hrs 34.29, was in 1985. Last year, aged 66, he finished in 5hrs.04.02.
He began his teaching career in 1965 at Blaketown School, where he worked for five years before heading to London. For the past 40 years he has been teaching maths at secondary schools in London.
"There are 1200 at the school where I am presently teaching, 25 in a class," he told the Guardian in a phone interview.
He runs with the Queens Park Harriers Athletics Club. Calling themselves the 'Ever Present' group, 18 from the club have run the London Marathon, many of them since the first in 1981. After the 15th marathon, members of the Ever Present group were awarded a special commemorative medal and guaranteed acceptance for future London Marathons.
One of Bill's four daughters, Patricia, nominated him for the Olympic torch relay, saying it was time for her father to shine.
"My dad strives every day to give children a chance to shine. Having worked with the young people of inner city London for over 40 years he has supported many of them academically, personally and sportingly to achieve their goals and reach their potential. Knowing how often sporting ventures can offer assurance and focus he has strived to offer many young people the unique opportunity of running the London Mini Marathon."
Mr O'Connor said he would not be running too fast with the famous torch: "I need to enjoy it and to have a good look as I jog along."
- APNZ