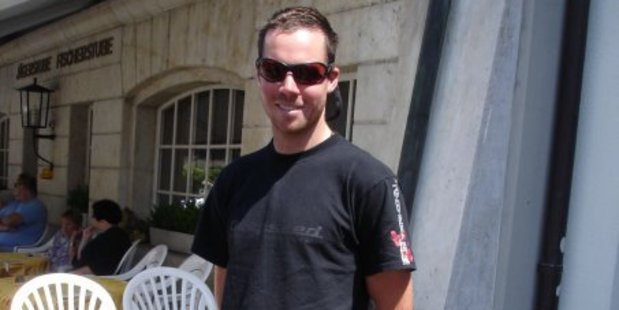 Alan McCandlish, the Taupo base jumper who died after falling from a cliff in Switzerland, showed an interest in climbing from the age of one.
Mr McCandlish, 31, was farewelled by hundreds of friends and family, who packed the Te Awamutu Bible Chapel yesterday.
Mr McCandlish died while base jumping in Switzerland a week and a half ago.
Music from Mr McCandlish's favourite bands greeted mourners as they arrived from all over New Zealand and as far away as Western Australia.
The casket was draped with two flags - a New Zealand flag which Mr McCandlish and his friends Benny MacPherson and Teroy Attwood had taken on their travels, as well as a Ferrari flag which was a gift from his brother Scott, who returned from Italy as soon as he heard news of the tragedy.
A eulogy read out by family friend and celebrant Mick Henderson spoke of Richard and Sue McCandlish's memories of their eldest son's adventurous ways from a young age.
The gathering heard how, at only 15 months old, Mr McCandlish demonstrated his climbing and traversing prowess by scaling the bars of his cot and letting himself down to the floor.
Another story recalled a time when Alan suggested that his mother not join them on a family walk up a steep hill because "you won't let us look over the side like Dad does".
Several of Alan's friends acknowledged the role Richard and Sue McCandlish had played in supporting their son and giving him the freedom to pursue his dreams.
They described their inspirational friend as a humble and quiet achiever who had a great sense of humour and "just loved the outdoors".
Those gathered at the service were given an insider's look at the sport of base jumping through a video that Mr McCandlish had made for his parents.
The service ended on a lighter note with a second video which was found on Mr McCandlish's computer this week when his friends were looking for base jumping photos. It showed Mr McCandlish feeding a bottle of milk to a tiny wild piglet that he'd found while out hunting only a few months ago.
Benny MacPherson spoke after the service about the amazing support he and fellow base jumper Teroy Attwood had received from the Swiss police and undertaker who organised the recovery of Alan's body and helped with arrangements to get him home.
"And we were really grateful that another base jumping friend, Douggs, contacted the Rega Air Rescue Helicopter as soon as the accident happened," Mr MacPherson said.
He also paid tribute to the staff at Southern Cross Travel Insurance, who had "played a huge role" in getting Alan's body home to his family so quickly.
For more articles from this region, go to Rotorua Daily Post