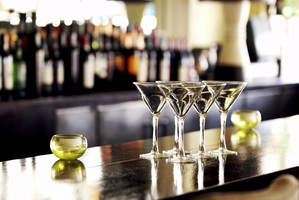 A central Auckland karaoke bar that played drinking games encouraging customers to "finish your glass" and "kiss someone" has had its licence suspended and another bar closed down after checks by police and Auckland Council last month.
Police told the Liquor Licensing Authority that karaoke bars were regarded as "problem premises" and were generally visited once a fortnight.
Operators of two karaoke bars, Plush in Upper Queen St and Mix in Queen St, were found to have breached liquor licensing laws. In a decision released by the authority yesterday, Plush was found to be running a drinking roulette game.
"A roulette wheel was used as an accessory to a drinking game," the police had said.
Segments of the wheel, which was written in Chinese, were labelled "finish your glass", "everyone take a sip" and "fill your glass".
Other segments suggested the winning patron should "kiss someone", "hug someone" or "tell a story".
Police said they did not find any intoxicated people on the premises as a result of the use of the roulette wheel.
Police officer Jane Suckling also said patrons were smoking in the bar, and that a visit to Plush on December 9 found three crowd controllers on the door without appropriate certificates.
This was the fourth time the licensee had been found to have breached sections of the act.
The authority suspended the on-licence of bar operator Empire Entertainment for 24 hours last Friday.
The authority said the period of suspension would have been greater, but police had not discovered more smoking since December 9 and the bar had rectified the problem of uncertified crowd controllers.
A second bar, Mix, operated by China Holidays Group, reached an agreement with the authority to have renewal of its on-licence adjourned for six months and its general manager's certificate suspended for three months to enable the business to be sold.
Group director Sheng Sun agreed to close the bar last Saturday "until the business has been sold and is under the control of the purchaser".
Operators of the two bars could not be reached for comment yesterday.