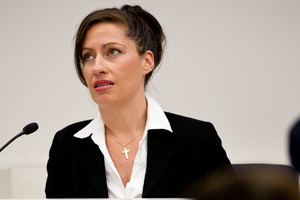 A couple criticised for not calling 111 after picking up a distressed, confused and underwear-clad Iraena Asher say they have no regrets about how they handled the situation.
They say suggestions their "failure" to call police was a contributing factor to Ms Asher's disappearance are "despicable".
Julia Woodhouse and her partner Bobbie Carroll had Ms Asher at their Piha home for four hours before she took off unexpectedly just after 1am.
The couple calmed and comforted Ms Asher, who was agitated, disconnected and at times incoherent. They fed her, helped her shower and gave her a warm dressing gown. They tucked her into bed with the promise they would drive her back to her flat later that morning.
Twice they discussed calling the police. Each time Ms Asher would become agitated and begged them not to, saying she was frightened of the police. She told them she had had her drink spiked, that she had been kidnapped, that she had called police but they were not interested.
The couple carefully considered their options and decided that keeping the young woman safe and warm inside was better than having her bolt into the cold stormy night - which was bound to happen if they called 111.
That decision, said police at an inquest into Ms Asher's death, was one of the factors that might have contributed to her disappearance and death.
"It concerns me that this woman [Ms Asher] had described being kidnapped or drugged ... the appropriate action should have been that the police or an ambulance at least should have been called. That could have resulted in Iraena being alive today," Detective Senior Sergeant John Sutton told Coroner Peter Ryan at the inquest on Tuesday.
That comment incensed Ms Woodhouse and Ms Carroll, who gave the inquest their own version.
"What we did probably contributed to Iraena not dying of exposure and having a few more hours of life," Ms Carroll said. "I think if we had called the police Iraena would have fled, she was fearful of the police ... Our priority was to keep her safe."
Ms Woodhouse was returning from Auckland to Piha with her son Henry Woodhouse when they saw Ms Asher about 9pm on Sunday, October 11, 2004. She was distressed and anxious.
"My first impression was that she was on something," said Mr Woodhouse yesterday. "She appeared disconnected from reality and didn't know what was what."
She went home with them, telling them she had been kidnapped, drugged and that she had called police but they were not interested.
On several occasions she became very agitated when calling the police was suggested.
Later she spoke to Mr Woodhouse.
"She told me [her boyfriend] had pulled out a bag full of Ecstasy tabs and acid. She said they had given her some.
"She whispered that they had taken photographs of her without her wanting them to."
At about 1am Ms Asher went to bed in the lounge. Mr Woodhouse stayed in the room at her request.
"She asked me if I wanted to go for a drive, saying she wanted to get out of here," Mr Woodhouse said.
"I told her to get some sleep and relax. She sat bolt upright for a bit and then walked slowly out the door.
"I followed her outside ... I called out to her to come back. She said 'come on, come on' as if she wanted me to follow. Then she turned and walked up the road."
Mr Woodhouse called 111 while his mother and Ms Carroll began searching. Ms Asher is believed to have wandered into the surf at Piha and drowned soon after.
"I felt quite shocked when I heard [Mr Sutton] say that he felt we had failed Iraena by not reporting her," Ms Woodhouse said.
"We took her in ... gave her warmth and kindness. We did not fail Iraena, the police failed Iraena."
Earlier, Iraena's elder sister, Angelique Campbell, described Ms Asher as bubbly and outgoing. She was adamant her sister was not depressed. and was "religious" about taking care of herself.