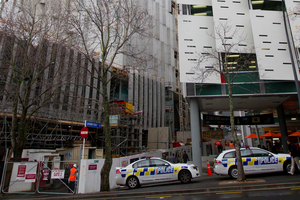 He has two broken ankles, punctured lungs, a neck injury, possible brain damage and his spleen has been removed - but Jarrod Monkley's family say he will fight on.
The 16-year-old has been able to squeeze his mother's hand at Auckland City Hospital where he is recovering after a six-storey fall from a construction site on Monday afternoon.
He cannot speak because he is in an induced coma as he tries to recover from the injuries caused by the fall, which happened at a new Auckland University of Technology building he had been working on for only a month.
"They will keep him asleep because I guess when you wake up the human reaction is to panic," his aunt Kelly Meawasige told the Herald.
"He is responding, though. He's able to squeeze our hands. There's positive things and as a family we all have to think positive and be there for him."
A spokeswoman for the Government's labour department said it was satisfied work practices at the site provided a safe environment. An investigation was unlikely to be carried out.
His mother, Zena Campbell, and father, Kayne Monkley, have not left the hospital since he was brought in.
Ms Meawasige said their concern was his recovery and not what caused him to fall.
"Regardless of what, where and why, our main concern at the moment is him.
"Things will happen how they're meant to happen and all our concern is to get him through and let him know we are there."
She said he had only recently left Rosehill College to start with the company contracted to work on the AUT building.
His father worked for the same firm, but was at another site when the accident happened. Jarrod's aunt said he did the interview on his own and won the job "on his own merits".
"He was excited by it and had just started at the gym. That's what the doctors are saying now, he is so fit, he's young, he's strong [and] that will help him get through."
Family members had been speaking with him "like he was awake".
"It's very difficult. You tend to want to break down. As you can imagine his mum and dad are devastated."
The fact that he had been able to gently squeeze their hands had given the family hope. Ms Meawasige felt it was a miracle he had got this far, given the distance he fell.
"But you know what - he's our boy and he will do it."
Ms Meawasige said he loved sport, especially cricket and rugby, and was adored by his three sisters and younger brother.
Friends filled Jarrod's Facebook page with messages of support.
"You're a true battler bro, you never give up," wrote Jonathan Keen, while Paul Dillon posted: "Keep fighting Jarrod, stay strong buddy ... Rise again little fighter."
The 250 workers at the AUT site were allowed back to work yesterday after a blessing ceremony.