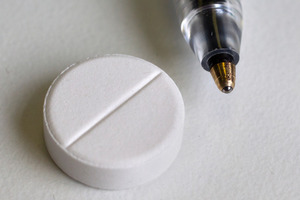 Patients are finding the larger size of a new brand of paracetamol pills being supplied by the Government difficult to swallow.
Pharmac has recently changed its contracted supplier of state-funded paracetamol from the Pharmacare brand to Parafast.
The move has stuck in the throat of Aucklander Belinda Perry, 55, who said the new "great big chunky" tablets were not practical.
Ms Perry said she receives paracetamol for her elderly mother, who needs pain relief after fracturing her spine several times.
But after filling a recent prescription, she was dismayed to find her mother could not swallow the new larger pills. Because of allergies, her mother is unable to take other types of pain relief.
Ms Perry said her mother's doctor, who made a recent house call, was also staggered at the pills' size.
"I rang Pharmac and she [a staff member] said there would be no change in the tablets until 2014 because they've changed contract.
"I said to her, 'How is an older person in their 80s going to swallow these great big chunky round tablets - I couldn't swallow them in my 50s'."
The Pharmac representative suggested taking a liquid form of the pills, crushing them up, or cutting them in half.
However, Ms Perry said because her mother suffers from rheumatoid arthritis she is not able to even cut the pills and the alternatives are another hassle for caregivers.
Her mother takes four lots of two pills each day.
"I leave everything out in place every day for mum. It's so easy to have the tablets ready for mum - I have the breakfast, lunch, afternoon tea and dinner, all ready out for her."
Ms Perry said she would buy the old, smaller brand of paracetamol herself, but worried that that option wasn't available to everyone.
"We'll cope ... I'm not complaining for me. I'm complaining for old people who haven't got that money and can't afford that liberty."
Ms Perry said her chemist and the Pharmac representative said many people had been complaining about the size of Parafast pills.
Pharmac spokesman Simon England said people concerned should speak to their chemist about the easiest ways to ingest the pills.